I was recently apart of a conversation where a potential new direct sales consultant wanted to know some good questions she should be asking before she joins to represent a company.
I admire anyone who does research ahead of time and chooses a company and a sponsor wisely. It sets the foundation to a strong business. I've offered a number of questions to ask in this article: Selecting a Direct Sales Sponsor and also in More on Selecting a Direct Sales Company and Sponsor.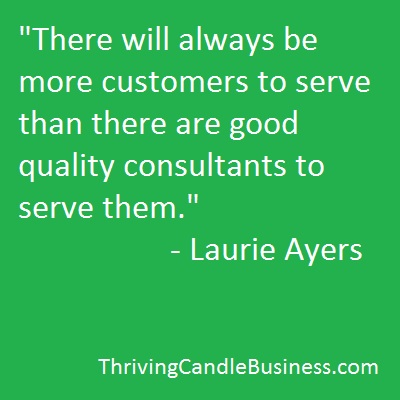 One of the participants in the discussion responded that she would definitely ask "How may consultants there are in the area, as you'll want to check for saturation."
This is not the first time I've heard others voice that this should be an important question to get answered. However, my response to this is:
Who cares how many consultants there are in an area?
That number means nothing and tells you nothing about the current situation. In many cases saturation is a myth.
Back to the irrelevance of how many consultants there are in the area. What will that tell you? I know what it won't tell you:
It won't tell you how many of those consultants are kit collectors and aren't selling anything.
It won't tell you how many signed up for personal use.
It won't tell you how many sell now and then to a few friends but aren't actively doing anything to get new customers, hosts or recruits.
It won't tell you how many are business builders.
It won't tell you how many are lousy consultants – difficult to get a hold of, slow to respond, rude or lacking knowledge.
If you make a decision to join or not join based on a raw number, with no facts to back up that number, you're making an unfounded assessment.
The number of consultants in a particular area, state, or country is irrelevant. All that matters is how you are choosing to work your business. If you're joining to work it as a business, I can tell you there will always be more customers to serve than there are good quality consultants to serve them. Regardless of the company you choose, there is always room for outstanding consultants.
See you at the top!
About the Author: Laurie Ayers is a Michigan work from home mom and a Superstar Director with Scentsy Wickless Candles. She enjoys helping men and women start and maintain a home based business in the US, Canada, Mexico, Australia, New Zealand, Puerto Rico, Germany, Ireland, France, Spain and the UK. To download a FREE Start Up Guide which provides more details about how to start a home business as well as to learn about our compensation plan go to www.thrivingcandlebusiness.com/how-to-start-a-candle-business/ or for updates on Facebook LIKE www.facebook.com/ThrivingCandleBusiness and twitter @directsalesblog