Scentsy discontinued: Some Scentsy scents and products are leaving after February 2023 to make room for the new season starting March 1.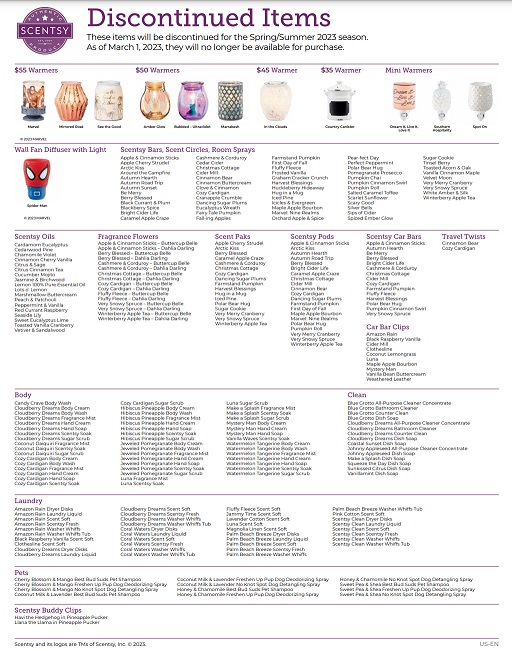 Discontinuing Scentsy Bars, Scentsy Circles, Room Sprays
Apple & Cinnamon Sticks
Apple Cherry Strudel
Arctic Kiss
Around the Campfire
Autumn Hearth
Autumn Road Trip
Autumn Sunset
Be Merry
Berry Blessed
Black Currant & Plum
Blackberry Spice
Bright Cider Life
Caramel Apple Craze
Cashmere & Corduroy
Cedar Cider
Christmas Cottage
Cider Mill
Cinnamon Bear
Cinnamon Buttercream
Clove & Cinnamon
Cozy Cardigan
Cranapple Crumble
Dancing Sugar Plums
Eucalyptus Wreath
Fairy Tale Pumpkin
Fall-ing Apples
Farmstand Pumpkin
First Day of Fall
Fluffy Fleece
Frosted Vanilla
Graham Cracker Crunch
Harvest Blessings
Huckleberry Hideaway
Hug in a Mug
Iced Pine
Icicles & Evergreen
Maple Apple Bourbon
Marvel: Nine Realms
Orchard Apple & Spice
Pear-fect Day
Perfect Peppermint
Polar Bear Hug
Pomegranate Prosecco
Pumpkin Chai
Pumpkin Cinnamon Swirl
Pumpkin Roll
Salted Caramel Toffee
Scarlet Sunflower
Scary Good
Silver Bells
Sips of Cider
Spiced Ember Glow
Sugar Cookie
Tinsel Berry
Toasted Acorn & Oak
Vanilla Cinnamon Maple
Velvet Moon
Very Merry Cranberry
Very Snowy Spruce
White Amber & Silk
Winterberry Apple Tea
*If any of these sell out prior to Feb. 28, they will no longer be available to order.
Make sure to check out SCENTSY CLUB where you can always get your favorite fragrance bars.
Shop using these SPECIAL BUNDLE AND SAVE LINKS at IncomeWax.com to get more for less.