What's the first thing you think of when you see Scentsy on Amazon? Do you think that you can buy Scentsy on Amazon.com?
When I see the words Scentsy on Amazon my mind immediately goes to Scentsy Amazon Rain wickless candle scent. It's one of my favorites. It's one of the current Spring Summer scented candles.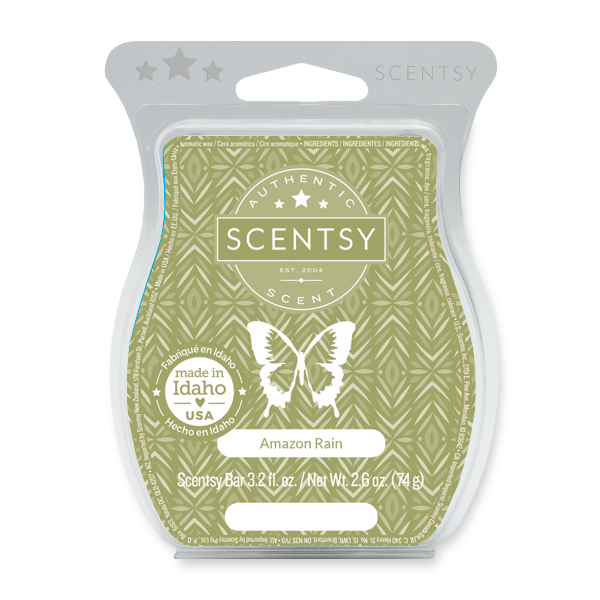 Scentsy's description of Amazon Rain fragrance:
Set off on a rainforest romp swirling with sweet notes of melon, orange zest, coconut milk and sultry night blooming jasmine.
Now looking at that description, I'm generally not a fan of melon or even orange zest. I may not have even tried that one if I judged it by the ingredients. However, I think a swirling rainforest romp sounds lovely. Plus, who doesn't like sultry night blooming jasmine?
If someone were to ask me to describe what Scentsy Amazon Rain smells like, I don't think I'd be as eloquent as romping rainforests. I would say it's a clean, fresh scent that dances in your nose. Okay, maybe I'll work on my adverbs and adjectives.
So if you like Amazon Rain or if you want to get your hands on Scentsy's delightful Amazon Rain wickless candle scent, get it here.
Made of high-quality paraffin wax for long-lasting fragrance, Scentsy Bars are composed of eight break-apart cubes designed to use with any Scentsy Warmer. As the cubes melt, they fill your space with our exclusive scents, inspiring imagination and memories. Safe to use — no wick, flame, smoke or soot. Made in Idaho, USA. Net wt 2.6 oz.
They sell for $6 each. One candle bar contains eight cubes. Or you can use my special Bundle and Save multipack link to get 6/$30. Mix and Match scentsy or get all Amazon Rain. Who doesn't love one free? But you must use this link to get the special pricing.
Amazon Rain Available in Other Scentsy Products Too
If you love the smell of Scentsy Amazon Rain, it's also available in our room spray, hanging scent circle, scent pak, washer whiffs, laundry liquid, scent soft, car clips, car bar, fragrance flowers, and pods.
Please Like, Share ,or Post a Comment and Connect with me on Pinterest