The Valentine's Day Collection is here!
This lovestruck Valentine's Day Scentsy collection is only available while supplies last at IncomeWax.com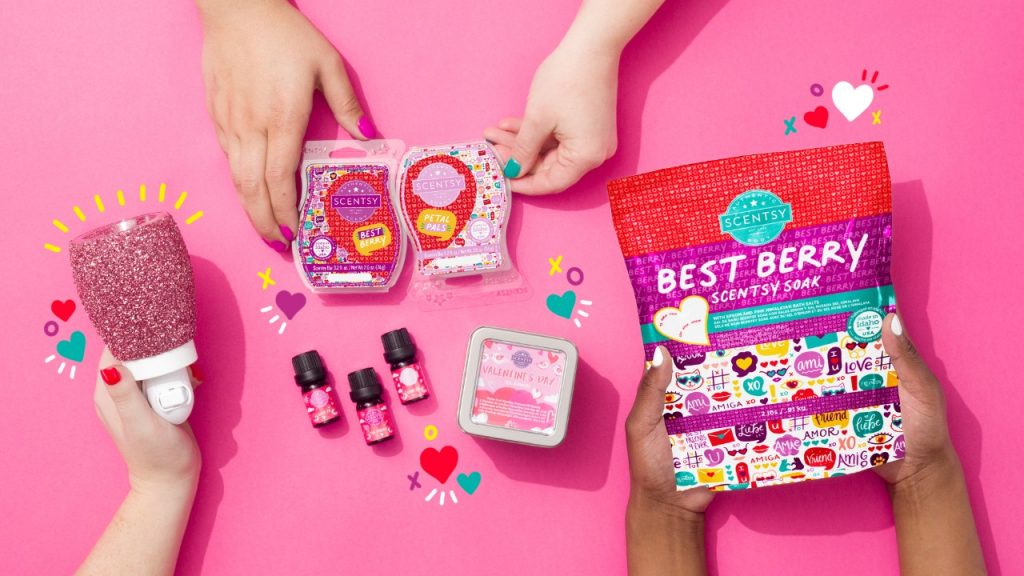 Celebrate love in all its forms with the 2021 Valentine's Day Collection! Featuring cute, heartwarming and romantic products, it's perfect for friends and lovebirds alike.
New! Best Pals Scentsy Bar Twin Pack $11
Best Berry: Strawberry and raspberry rendezvous over silky-sweet spun sugar.
Petal Pals: Playful notes of pink rose and peony share a whipped marshmallow treat.
New! Best Berry Scentsy Pod Twin Pack $10
Two berry good Scentsy Pods — perfect for sharing with a friend or Valentine!
New! Best Berry Scentsy Soak $12
Pink Himalayan and Epson salts enhanced with premium moisturizers. Scented with Best Berry.
New! Best Berry Scentsy Sugar Scrub $12
An exfoliating, skin softening scrub scented with Best Berry.
New! Follow Your Heart Warmer $45
A rustic design and timeless message will bring a sweet sense of style to any space.
New! Glitter Magenta Mini Warmer $20 (Sold Out)
If bling is your thing, this glittery little number will not disappoint.
Love Connection Mini Warmer $20
This ceramic mini speaks the language of love with gold, embossed hearts and a warm vibe.
New! Love Connection Warmer $35 (Sold Out)
This ceramic warmer speaks the language of love with gold, embossed hearts and a warm vibe.
Valentine's Day Oil 3-Pack $18
Luv Ya: Charming nashi pear and pink sugar crystals sparkle with an irresistible touch of lemon fizz.
I'm Yours: Intoxicating notes of grapefruit, apricot blossom and coconut milk will sweep you off your feet.
Hug Me: Wrap yourself in a romantic bouquet of jasmine petals and violet over salted tonka bean.
New! Wall Fan Diffuser — Blush Spin $30
Put a fragrant spin on any space! And be sure to add Best Berry Scentsy Pods to complete the cute, cotton candy vibe!
Best Berry and Petal Pals Scentsy Bars are not available for individual purchase, they can only be found in the Best Pals Bundle. This bundle is not included in the 10% off wax sale, nor can it be added to Bundle & Saves.

Order today for delivery to your door.