Dear Scentsy Consultant: You are doing your business a disservice, and will ultimately hurt it if you promote Scentsy as anything other than a PERSONAL PREFERENCE.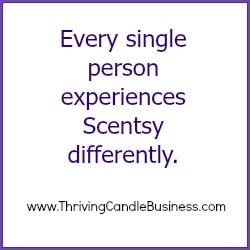 Everyone's nose works differently. Everyone's personal preference is entirely different. Other than the mechanics of our products (correct watt light bulb, water in the diffuser, scent soft in the fabric softener bin of your washer, etc.) you should not be giving ANY specific and quantitative values on how many cubes of wax, how many drops of oils, how many scoops of whiffs, etc.
The most important thing you can do for your customers is to inform them how every single person is different and they will find their own preference and have their own experience. It's not being evasive; it's being smart, truthful and helpful.
Are You Over-Promising and Under-Delivering?
Consider this – if you think a scent is very strong and only use a half or one cube and tell me that is good to start with, I may not be able to smell a darn thing with that and then I'll feel duped and that Scentsy doesn't work.
Likewise if you tell me you use 4, 6 or 8 cubes at a time and it lasts a week, so I try it, and it was indeed, "Wow!" strong the first day or so, then I start to become anosmic to it and by day three I couldn't really smell it anymore, I'll feel duped and that Scentsy doesn't work.
I would personally never tell anyone to only change it once a week. I want to sell wax and I want my customers to mix it up so that they don't become too immune to the scent. Others will disagree with me on that, which illustrates my point, there isn't a way to experience Scentsy, there are many ways.