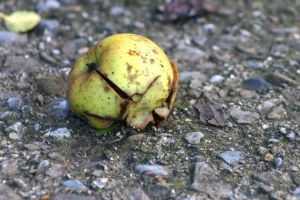 If you run into a whackadoodle consultant don't assume the whole company is like that.
I admit it. I've been guilty of not heeding my own above advice.   A couple years ago while I was a vendor at a local school craft show, another vendor from another company practically assaulted me, slapped some lotion underneath my eyes and proclaimed, "Here, this will help with your wrinkles!"
Ok, a couple things wrong with that. Number one; don't touch me unless I've given permission or act like I'm up for unsolicited fondling.   Number two; I could have been highly allergic to whatever magic lotion you were applying near my eyesballs; and number three, I've been told more than a few times that I already look much younger than approaching half a century, so insulting me by pointing out almost non-existent wrinkles is not going to get you sale. Whackjob.
So how do you think I felt about this particular company she represented from that point forward? Exactly. Any time I would see a consultant or booth for that company I put my Kevlar on, looked at my shoes and retreated in the opposite direction whenever the possibility existed for a repeat performance. Did the company teach all their consultants that little sales technique? Or did I just happen to be accosted by some rogue nutcase?
Oh I'm not naïve enough to think these unique creatures don't exist in every direct sales company; I'm sure my own company, correction, I know within my own company there are some humdingers with whom I definitely do not want to be associated. I go out of my way to make sure any potential customer, recruit or host knows "˜we're not all like that'.   Which brings me to the whole point of this post:
We're not all like that.
If you find a great consultant who is responsive, knowledgeable and truly a delight to do business with, hang onto her/him, because we're not like that (though I humbly say I am!) Likewise, if you had the distinct pleasure of interacting with one of the bad apples, give us another try, because we're not all like that. [Read more…] about Don't Judge a Company By a Consultant