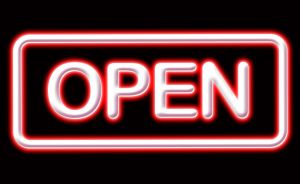 Do your customers know you exist?
A few months ago a local small business closed. Not long after that we saw a construction crew in there remodeling for a new business to open in the same building. After a period a time there was new signage out front.   It was a tiny pet grooming salon. Yay! My hound dog always needs her nails trimmed.
Every time we drove past there was never any cars in the lot, nor did we see any lights on. It was a small corner building, so it appeared it could have easily been owned by a sole proprietor who worked limited hours. That's not terribly uncommon with start-ups.   At some point a paper "Open" sign appeared in the window.
I'll cut to the chase – it's been months. Literally months, and I have never once seen the lights on or anyone inside and certainly no cars outside. This building is right up the street from me so I drive past it frequently. There aren't any posted hours on the door either – just the paper OPEN sign. Yet it is never open. I have also never seen any kind advertising or marketing about the place.
This made me think about some independent consultants with their direct sales businesses.
People have to know you exist and know how and when to contact you before they'll consider doing business with you.  You can't just sign up, get a website and hope the customers will flock to you.
It's pretty well known within my group that I cringe whenever someone says that our product "sells itself." Ah no "¦ nothing sells itself. If that was the case, I could just load up my front porch each morning with product and people would come by and throw money at me.   I will absolutely agree that it is an easy sell. But one that still requires that you let people know about it. You don't have to sell them the product, but you do have to introduce it to them.
Take inventory of your marketing and advertising tactics. Take an honest look. Are you putting in adequate effort so that people know you exist? Do they know when and how they can contact you?   Or are you the empty pet grooming business sitting vacant with a paper open sign taped to the window?
If you don't have all the customers, hosts and team members you want or can handle, consider marketing yourself more so that others know about you. You'll be amazed at the results!
See you at the top!
About the Author: Laurie Ayers is a Michigan work from home mom and a Superstar Director with Scentsy Wickless Candles. She enjoys helping men and women start and maintain a home based business in the US, Canada, Puerto Rico, Germany, Ireland and the UK. To download a FREE Start Up Guide which provides more details about how to start a home business as well as to learn about our compensation plan go to https://www.thrivingcandlebusiness.com/how-to-start-a-candle-business/