Attn: MSU Spartans
As a Michigan State University Alumna, and the mother of an MSU student, I am thrilled to be able to offer you MSU Michigan State Scentsy candle warmer.
AVAILABLE IN TWO STYLES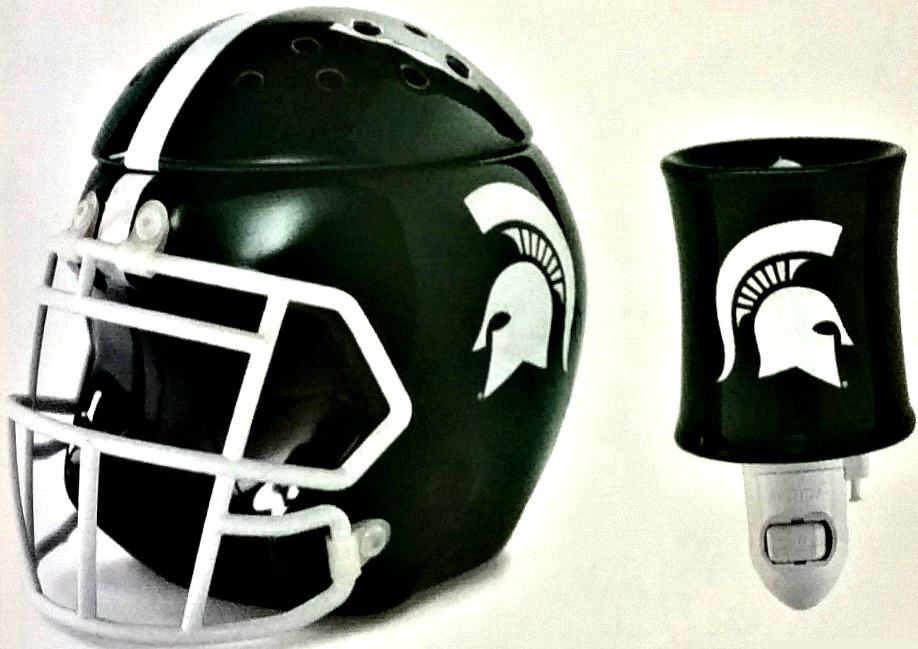 Michigan State University Football Helmet Warmer. This element warmer doesn't use a light bulb to melt the wax; instead it uses a heating plate. The dimensions of our helmet warmers are 5.5 inches tall.
Michigan State University Mini Warmer – Big spirit in a smaller size! Painted with our famous Sparty logo, this warmer uses a 15-watt lightbulb (included) to melt Scentsy candle bars to give any smaller space illumination, fragrance and MSU pride. 3.5″ tall.
THE PERFECT GIFT IDEA 
My daughter had a Scentsy warmer in her dorm room when she stayed on campus at Holmes and Shaw. Those tiny dorms can get pretty funky smelling, wouldn't you agree? Michigan State Scentsy candle warmers make great gifts for any Spartan student, alumni and fan.
Scentsy donates proceeds from the sale of all of our campus collection warmers back to the college or university. If you're going to support a cause and also get an awesome Michigan State University candle warmer, I can't think of a more deserving school than MSU.
Be sure to select some scented candle bars to be warmed in these Spartan warmers.
SPECIAL OFFER
I'm looking for some Spartans who either want to earn some funds or get Scentsy for free and 50% off.
You obviously know other Michigan State students, alumni, and fans who also bleed green and need one of these warmers in their home, or as a gift.  I'll set up a special link just for you at www.IncomeWax.com, then you promote your link to everyone you know who has good taste and loves MSU. Promote it on social media, or in person or whatever works for you.
They order their warmers, and anything else they have to have online. You don't need to collect any money, and you don't need to make any deliveries. Their orders will be drop shipped directly to them. Then after orders are placed, you cash out with your free and 50% products of your choosing, also shipped directly to you.
OR, if you prefer, we can make it a fundraiser for yourself (or others) and instead of product, you'll receive an agreed upon percentage of the sales in the form of a check.
BEST OF BOTH WORLDS
Earn money for your student loans or maybe Thursday night rama and trivia AND still get your Scentsy Free and 50% off. For $99 plus shipping & tax, you can be a consultant, get paid commission on everything you sell and you can host your own online or offline party then collect the host rewards. No monthly minimums. See more about this possibility here.
Contact me with any questions about our MSU warmers, or getting free product or earning some extra money, or my time at State.
Go Green! Go White!
Please Like, Share or Post a Comment!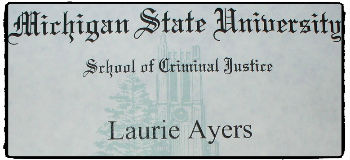 About the Author: Laurie Ayers is a Michigan work from home mom and a Superstar Director with Scentsy Wickless Candles. She enjoys helping men and women start and maintain a home based business in the US, Canada, Mexico, Australia, New Zealand, Puerto Rico, Germany, Ireland, UK, France, Austria and Spain. To download a FREE Start Up Guide which provides more details about how to start a home business as well as to learn about our compensation plan go to www.thrivingcandlebusiness.com/how-to-start-a-candle-business/ 
Be sure to connect with me on Facebook, Twitter, and Pinterest