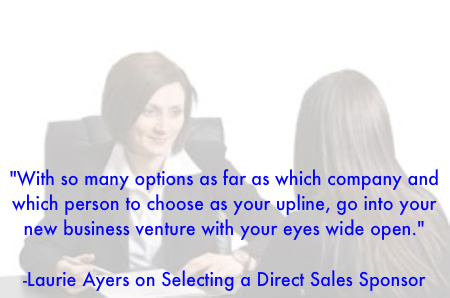 We've talked about the importance of doing thorough research before joining a direct sales company or signing with a sponsor. With so many options as far as which company and which person to choose as your upline, go into your new business venture with your eyes wide open. You don't need to enroll with the first person who shared information with you. Talk with different consultants. In addition to the previous posts on selecting a direct sales sponsor, below you'll find some more questions to ask. The first part is to help you find the right company for you and the latter are questions you can ask different consultants you are interviewing to be your sponsor.
Corporate questions:
What is the training like? Is there a training center for consultants? Is it all self-paced or are there calls or in-person trainings, workshops, conventions? Is the training geared both toward product education or technical procedures such as how to enter parties, policies and procedures, etc.
What are the monthly or quarterly qualifications as far as personal sales to stay active?   What happens if you go inactive? Are you terminated or can you reactivate?
Do you have a copy of the compensation plan? Can you start recruiting other team members right away or do you need to reach a certain rank advancement?
What are the policies and procedures on marketing the business online? Separate website permitted? Blog? Facebook page? What are restrictions on use of the logo or use of company name?   Does the company offer marketing collateral? If so, what kind and how much? Are we able to sell at vendor events/fairs and shows.
Is there an option of setting up an online party that customers from all across the country can shop from, with volumes crediting to the host?
How much is the monthly website/webstore hosting?
Sponsor questions:
How long have you been with your company? What about your upline? Are they knowledgeable or accessible? Or is that not really protocol to reach out to them?
Are you an active business builder or do you mainly work this part time and are having fun with it?
What is your preferred method of communication? (email, FB, text, phone, etc?)
Do you have a downline?   How many people? How do you train/mentor your new team members?
How accessible are you to respond to questions? Meaning what is a reasonable time frame to expect a return message from you?
What is the best thing you like about your company?
No one company is perfect, what's one thing about the company that has opportunities for improvement or that you'd change?
Lastly don't apologize for asking questions. It's the responsible thing to do. It shows the sponsors that you are serious about building a business and that you have a decent head on your shoulders. Whenever I get similar questions, I get excited because it shows sign of a truly independent, self starter. These folks generally take their direct sales business seriously and run their business like a business.   Uplines who are also building a business welcome these questions.
About the Author: Laurie Ayers is a Michigan work from home mom and a Superstar Director with Scentsy Wickless Candles. She enjoys helping men and women start and maintain a home based business in the US, Canada, Poland, Mexico, Australia, Puerto Rico, Germany, Ireland, UK, France, Austria and Spain. To download a FREE Start Up Guide which provides more details about how to start a home business as well as to learn about our compensation plan go to www.thrivingcandlebusiness.com/how-to-start-a-candle-business/ or for updates on Facebook LIKE www.facebook.com/ThrivingCandleBusiness and twitter @directsalesblog