Former Scentsy Consultants: Come Back For Free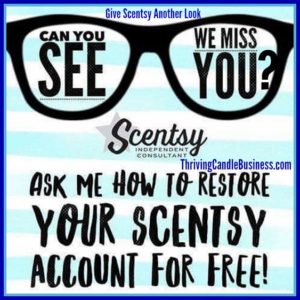 If you used to be a Scentsy consultant but voluntarily canceled your account or were canceled due to inactivity for prolonged periods of time, did you know that you may reactivate your account at no cost?
You can request that your account be reinstated so you can start selling again, now is a great time to do that as we get into the holiday gift giving season.
There's no new starter kit to purchase. Only one stater kit per lifetime is permitted, although you merely order whatever business supplies you think you may need from our Scentsy Family Store.
When you request a reinstatement you must notify them who you want as a sponsor, regardless of who you had originally.
If you're happy with that person, I encourage you to go back with that person, especially if you were formerly on our team, Abundant Prosperity. 🙂
However, if you had a different sponsor originally, and you'd like a fresh start, I'd be happy to mentor you. Just give them my name, Laurie Ayers and ID number, 505.
A couple things to consider that may have changed since you left:
1. In order to remain a consultant you must have 200 PRV all in one calendar month, to occur at least once every 3 months. It's a rolling 3 month period, meaning if you had 200 or more in September but didn't do at least 200 in October nor in November, then you'd need to have another 200 month in December to avoid being terminated. It's not 200 over the course of 3 months, it's 200 in one month – you just don't need to do it every month.
2. In the United States the minimum retail dollar amount to qualify as a party and receive host rewards of free shipping, product credit and 50% off is $200.
3. We continue to expand globally. As of this writing we are currently open for business (sales and recruiting) in the U.S. Canada, Mexico, UK, Germany, Ireland, France, Spain, Austria, Australia and New Zealand. Also European consultants can sell to customers in Poland, Italy and Luxembourg, in addition to the countries already listed.
If you want to learn more about me, check out this link. I am an open book as far as how I operate, what you can and can't expect if you join Abundant Prosperity and testimonials from others. It's good to find out ahead of time, wouldn't you agree?
If you are ready to give Scentsy another look, please request a reinstatement  in writing from accountservices@scentsy.com and tell them you'd like Laurie Ayers, #505 to be your sponsor.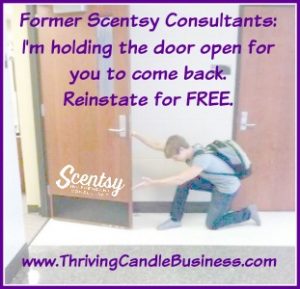 Please Like, Share or Post a Comment!
About the Author: Laurie Ayers is a Michigan work from home mom and a Superstar Director with Scentsy Wickless Candles. She enjoys helping men and women start and maintain a home based business in the US, Canada, Mexico, Australia, New Zealand, Puerto Rico, Germany, Ireland, UK, France, Austria and Spain. To download a FREE Start Up Guide which provides more details about how to start a home business as well as to learn about our compensation plan go to www.thrivingcandlebusiness.com/how-to-start-a-candle-business/ 
Be sure to connect with me on Facebook, Twitter, and Pinterest