Former Scentsy Consultants: Come Back For Free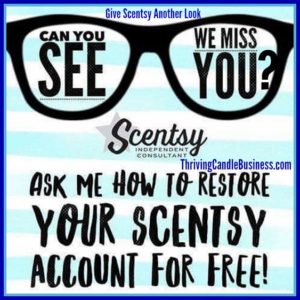 If you used to be a Scentsy consultant but voluntarily canceled your account or were canceled due to inactivity for prolonged periods of time, did you know that you may reactivate your account at no cost?
You can request that your account be reinstated so you can start selling again, now is a great time to do that as we get into the holiday gift giving season.
There's no new starter kit to purchase. Only one stater kit per lifetime is permitted, although you merely order whatever business supplies you think you may need from our Scentsy Family Store.
When you request a reinstatement you must notify them who you want as a sponsor, regardless of who you had originally.
If you're happy with that person, I encourage you to go back with that person, especially if you were formerly on our team, Abundant Prosperity. 🙂
However, if you had a different sponsor originally, and you'd like a fresh start, I'd be happy to mentor you. Just give them my name, Laurie Ayers and ID number, 505.