Before you join Scentsy you need to select a sponsor; but before you select a sponsor, do your homework and choose wisely.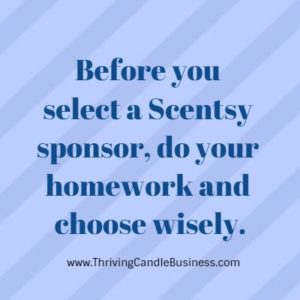 It's interesting to watch the ambulance chasing that occurs on Facebook and elsewhere online when someone says, "I'm thinking about joining Scentsy."
Under No Obligation
Just because someone messages you first or happens to be someone you contacted first does not mean that you have to join that person's team. Just because someone emailed and/or snail mailed you some information does not mean you are committed to joining with that person.
Take some time, do your due diligence and find the right sponsor for you.  I would strongly discourage you from looking for the best offer. It won't take you any time at all to find offers for free this or that if you join this team or that team. I'm sure you can even find someone who will provide a way for you to join her team for free.
What's Important to You
For the record, it's against most direct selling company's policies, Scentsy's included, as well as the DSA Code of Conduct to offer any enticements to get people to join your team. That includes offer to pay for starter kits, extra products, perks or anything monetarily extra if you join their team. The exact language from the Standards is "Offering incentives to join:  You may not offer, or infer that you are offering, to pay for someone's Starter Kit or other monetary benefits as an incentive to join your Scentsy Team." [Read more…] about Selecting a Scentsy Sponsor