Before you join Scentsy you need to select a sponsor; but before you select a sponsor, do your homework and choose wisely.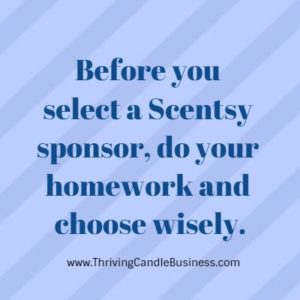 It's interesting to watch the ambulance chasing that occurs on Facebook and elsewhere online when someone says, "I'm thinking about joining Scentsy."
Under No Obligation
Just because someone messages you first or happens to be someone you contacted first does not mean that you have to join that person's team. Just because someone emailed and/or snail mailed you some information does not mean you are committed to joining with that person.
Take some time, do your due diligence and find the right sponsor for you.  I would strongly discourage you from looking for the best offer. It won't take you any time at all to find offers for free this or that if you join this team or that team. I'm sure you can even find someone who will provide a way for you to join her team for free.
What's Important to You
For the record, it's against most direct selling company's policies, Scentsy's included, as well as the DSA Code of Conduct to offer any enticements to get people to join your team. That includes offer to pay for starter kits, extra products, perks or anything monetarily extra if you join their team. The exact language from the Standards is "Offering incentives to join:  You may not offer, or infer that you are offering, to pay for someone's Starter Kit or other monetary benefits as an incentive to join your Scentsy Team."
The consultants who are offering you bribes if you join their team signed and agreed that they understood it was a prohibited practice and they would not do that. So if they are offering you freebies, consider the character and ethics of that person.
Some consultants think they are quite clever with this one. They won't come out and say "Join my team and I'll give you an extra set of scent testers." But instead they'll just post on their Facebook wall something like "I love sending out [insert freebie here] to all my new consultants. I have thee best team members!"  Hello, that still says join my team and I'll give you …" That falls under interring that you are offering.
If you're just looking for the best offer and extra freebies, then I suppose finding a sponsor who knows what he or she signed and agreed to and then actually follows them may not be important to you.
However if you're looking to find a successful sponsor who has gotten where they are by doing the right thing and will set a good example, their character is something you may want to consider before selecting a direct sales sponsor.
Consider this, if you've already done your research on Scentsy, you know you'd be selling quality products and enjoying a generous compensation plan, therefore the only other element missing is finding quality support from a strong up line. Those who offer deals are essentially saying that they do not believe in the company products or opportunity or in her abilities to sponsor and mentor, therefore she feels the need to bribe you to join.
Help, Help, Help
Facebook groups are chock full of consultants pleading for help and asking the most basic questions in a public forum because they do not have the training and support required to be successful from their own sponsors. Yet these same people clamoring for help, are often (not always) the ones who jumped on board with the person who offered the best deal.
I regularly get emails that start out, "I recently joined Scentsy with my friend, sister, a coworker, a local, someone I met online …" then go on to say they don't feel they are getting any help and can I help them.
You Have All the Power
You, as the potential new team member, get to ask the questions. You are the interviewer.  Ask some hard questions, such as:
How long have you been with this company?
What rank are you? Where is that in relation to the total structure?
Are you consistently getting paid as your rank? (This can be very telling)
How long have you been in direct sales?
Why did you choose this company?
Are there days or hours that you are not generally available?
What training is available from you and/or corporate?
How did you receive your training?
Do you attend seminars and convention?
Have you won any awards from the company?
How would you describe your personality style?
What's the worst thing you have to say about the company? (Even great companies have room for improvement.)
If you receive weak answers to these questions and yet still choose to sign with that person, all I can say is buyer beware.
Would you rather go to a doctor fresh out of medical school, or one who is a veteran at his specialty?  Would you go to a hair stylist who just finished beauty school? Or do you want the person who is cutting or coloring your precious mane to have some experience – one who has a proven track record of producing phenomenal results?
What good is a special offer if it is not backed by a strong warranty?  Remember who is in the driver's seat when it comes to selecting a sponsor for your Scentsy business:  You!
I would be happy to be interviewed if you're looking for a successful Scentsy sponsor. Contact me here.
Please Like, Share or Post a Comment!
About the Author: Laurie Ayers is a Michigan work from home mom and a Superstar Director with Scentsy Wickless Candles. She enjoys helping men and women start and maintain a home based business in the US, Canada, Mexico, Australia, New Zealand, Puerto Rico, Germany, Ireland, UK, France, Austria and Spain. To download a FREE Start Up Guide which provides more details about how to start a home business as well as to learn about our compensation plan go to www.thrivingcandlebusiness.com/how-to-start-a-candle-business/ 
Be sure to connect with me on Pinterest