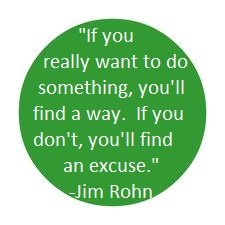 Every time consultants are up for termination due to inactivity I hear it: "I can't afford to keep my [xyz direct sales] business, so I'm going to quit or I'm going to be terminated."
I don't understand that logic.
If you are struggling financially, and you already own a direct sales business, and also have access to great products that you can share and sell "¦ and earn money by doing so – why would you quit that? Isn't that the answer to prayer? Isn't this a solution to help you out financially? A few more crazy comments I hear:
"My husband doesn't get paid until Friday."
Not sure what a spouse's payday has to do with your ability to pick up the phone and make some sales to save your account – unless of course the phone has been shut off due to failure to pay the bill. Then I'd high tail it to the public library to use the free internet. That way you can send emails and set up an online party. Then you can save your business and then continue so sell so that you can pay the phone bill.
"I can't afford to stay a consultant."
Can't afford to? More like can't afford NOT to stay a consultant.
"I can't believe the company is cutting me loose"
The company isn't cutting you loose. You chose to stop (or never start) working your business. How is the corporate office responsible for that?
If you're scheduled for termination at the end of July you still have one week left to get a minimum order together. I hope you'll choose to stay. Remember: short term pain for long term pleasure.
"If you really want to do something, you'll find a way. If you don't, you'll find an excuse." – Jim Rohn
About the Author: Laurie Ayers is a Michigan work from home mom and a Superstar Director with Scentsy Wickless Candles. She enjoys helping men and women start and maintain a home based business in the US, Canada, Australia, Mexico, Puerto Rico, Germany, Ireland and the UK. To download a FREE Start Up Guide which provides more details about how to start a home business as well as to learn about our compensation plan go to https://www.thrivingcandlebusiness.com/how-to-start-a-candle-business/