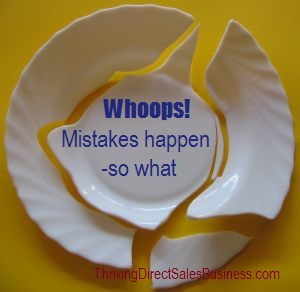 Whoopsee, that didn't exactly turn out the way I planned.
Have you ever made a mistake?
What a ludicrous question, right? Of course we've all made mistakes and we will continue to make them. I like to call it Stupid Tax. I generally end up having to pay for my mistakes – sometimes literally in hard earned money and other times in consequences.
Point being, if you screw up, admit it, learn from it and move on. The end. Don't beat yourself up over it; and by all means don't quit your direct sales business. It doesn't matter if you forgot to enter a customer's order; or you spilled at the host's house or you told a prospective recruit wrong information. I'm sure you didn't do it on purpose. That's why it's called an accident; a mistake.
If you own up to it, take responsible and apologize, then make it right the best you can, that pretty much puts an end to the issue. It generally diffuses any potential volatility. If you are authentic and say, "I'm sorry, I dropped the ball, let me make it up to you." what can the other person say, really?
Whoopsee
This morning I had to buzz some shoes up to my daughter at school. I pulled into a visitor parking space and was gathering my things to get out. The truck next to me was pulling out of his parking space and as he was in driving in reverse his truck hit my car … SMASH! while I was sitting in a parked vehicle. Whoopsee.
Of course I wasn't happy about it. My car has never been involved in an accident. But I certainly couldn't unring the bell. It happened. At that moment it was already history. I was pleased that the man who hit me immediately apologized all over the place, offered to pay for the damages and accepted full responsibility. How often does that happen? Sadly not nearly enough.
He just kept apologizing. The damage wasn't all that bad. I said, "Hey that's why they call them accidents."  He replied, "No it's called I didn't see you and I should have. Here's my name and phone number. Let me know how much the damages are and I'll take care of it."
You will probably make more mistakes when you're just starting out in your direct sales business. There's a learning curve. We've all been there. Just don't think that you'll be immune to them. Even the most veteran consultants occasionally still pay Stupid Tax. The trick is to try to minimize the mistakes, learn from them and remember don't beat yourself up when (not if) they happen.
Get over it. Learn from it. Move on. Next!
Please Like, Share or Post a Comment!
About the Author: Laurie Ayers is a Michigan work from home mom and a Superstar Director with Scentsy Wickless Candles. She enjoys helping men and women start and maintain a home based business in the US, Canada, Mexico, Australia, New Zealand, Puerto Rico, Germany, Ireland, UK, France, Austria and Spain. To download a FREE Start Up Guide which provides more details about how to start a home business as well as to learn about our compensation plan go to www.thrivingcandlebusiness.com/how-to-start-a-candle-business/ 
Be sure to connect with me on Facebook, Twitter, and Pinterest