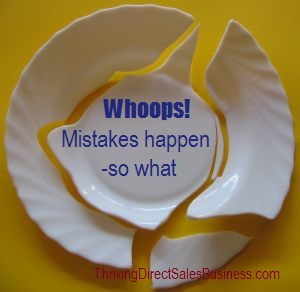 Whoopsee, that didn't exactly turn out the way I planned.
Have you ever made a mistake?
What a ludicrous question, right? Of course we've all made mistakes and we will continue to make them. I like to call it Stupid Tax. I generally end up having to pay for my mistakes – sometimes literally in hard earned money and other times in consequences.
Point being, if you screw up, admit it, learn from it and move on. The end. Don't beat yourself up over it; and by all means don't quit your direct sales business. It doesn't matter if you forgot to enter a customer's order; or you spilled at the host's house or you told a prospective recruit wrong information. I'm sure you didn't do it on purpose. That's why it's called an accident; a mistake.
If you own up to it, take responsible and apologize, then make it right the best you can, that pretty much puts an end to the issue. It generally diffuses any potential volatility. If you are authentic and say, "I'm sorry, I dropped the ball, let me make it up to you." what can the other person say, really? [Read more…] about Independent Consultants' Guide to Avoiding Mistakes