Not all vendor events are good for your business.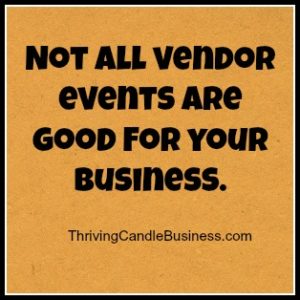 Yesterday I manned a booth for a charity event at a local festival. Across the street from me was a direct sales vendor. I had all afternoon to reflect on the mistakes this consultant made.
I'm not criticizing, but rather pointing out some of the mistakes so that you don't make them in the future.
Target Market – This was the biggest mistake. The average attendee for this event was younger (some not even 18) and lower income. The visitors to the booths were mainly there for the service information and freebies. There was only one other direct seller there. It just wasn't the right market for DS.
Weather – It was 90 degrees in the bright sunshine. Vendors were under canopies but it was still sweltering. It was not conducive for soft candle wax.
Set Up -The candle bars that were for sale were on the side of the booth space. The vendors were placed very close together and I saw no others who used the side to display anything, but rather all faced forward. Point being, wax is Scentsy's biggest seller. Even if most attendees were there for freebies, someone may have easily spent $5 to get more wax – but it was almost hidden, until you got right on top of the booth.
As mentioned above, it was a very hot day and they had the wax set up in shallow tubs, but they were tipped on their side. So if the wax would have started to melt, it would have dripped right out. The vendor told me they had some other wax in the cooler, but it was just way too hot to have that soft wax sitting out. And since it was so hot, few attendees would have wanted to buy some to put it in their purse or bag. It was an event that ran from 11am -midnight and many were planning to stay until the night time concerts. They would not want to carry melting wax around.
The front of their booth was stocked with ceramic and glass warmers. They were sitting on top of the boxes, very near the edge of the table. There was alcohol at this event and there were some who clearly were partaking and wouldn't take too much for the visitors to accidently knock the warmers over. Also since this was not a shopping crowd the $5 wax would have been a better draw to their booth, not the $25-$55 warmers.
Signage – These vendors were raffling off a basket with a handwritten sign stating all proceeds were going to the victims of Orlando. Handwritten signs are unprofessional. It was a nice gesture however; it was completely inappropriate. All consultants were told:
Tying marketing messages or fundraisers to nationally known tragic events (including politically charged social movements, celebrity deaths, terrorist attacks or natural disasters) is neither encouraged nor appropriate. Regardless of the size or nature of the tragedy, Consultants should avoid creating the impression they are capitalizing on the tragedy of others.
Expressing condolences on your business page is within compliance and appropriate if it is independent of any Scentsy messaging. However, mixing a marketing or product message with condolences is never appropriate, nor is following up a condolence message with an indirect product message. Please refrain from using product imagery, names or the business opportunity in condolence messages, and be sensitive to how others may interpret product placement on the heels of tragic events.
To recap: At least 10 hours out in the sweltering heat, trying to sell soft wax and $25-$55 warmers to a crowd of mostly younger, lower income attendees, plus factoring in the booth rental fee. I'm pretty sure they lost money on that one.
Do your due diligence researching events before you agree to invest your time and money.
Please Like, Share or Post a Comment!
About the Author: Laurie Ayers is a Michigan work from home mom and a Superstar Director with Scentsy Wickless Candles. She enjoys helping men and women start and maintain a home based business in the US, Canada, Mexico, Australia, New Zealand, Puerto Rico, Germany, Ireland, UK, France, Austria and Spain. To download a FREE Start Up Guide which provides more details about how to start a home business as well as to learn about our compensation plan go to www.thrivingcandlebusiness.com/how-to-start-a-candle-business/
Be sure to connect with me on Facebook, Twitter, and Pinterest