Not all vendor events are good for your business.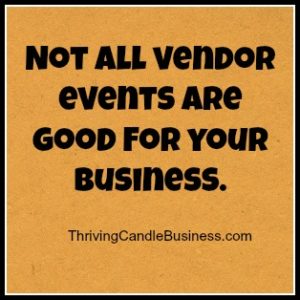 Yesterday I manned a booth for a charity event at a local festival. Across the street from me was a direct sales vendor. I had all afternoon to reflect on the mistakes this consultant made.
I'm not criticizing, but rather pointing out some of the mistakes so that you don't make them in the future.
Target Market – This was the biggest mistake. The average attendee for this event was younger (some not even 18) and lower income. The visitors to the booths were mainly there for the service information and freebies. There was only one other direct seller there. It just wasn't the right market for DS.
Weather – It was 90 degrees in the bright sunshine. Vendors were under canopies but it was still sweltering. It was not conducive for soft candle wax.
Set Up -The candle bars that were for sale were on the side of the booth space. The vendors were placed very close together and I saw no others who used the side to display anything, but rather all faced forward. Point being, wax is Scentsy's biggest seller. Even if most attendees were there for freebies, someone may have easily spent $5 to get more wax – but it was almost hidden, until you got right on top of the booth. [Read more…] about Vendor Event Mistakes