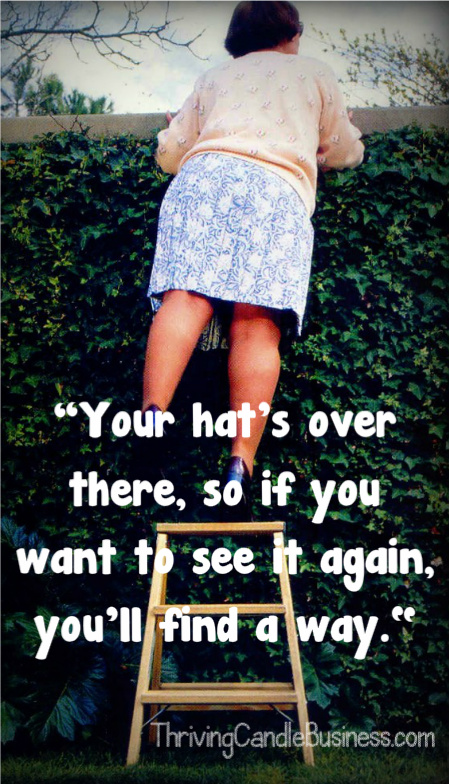 Have you heard the expression 'Throw your hat over the fence'? If not, I'm glad you showed up today… you'll learn something new.
It's an expression about making a decision and taking some action. Perhaps your business needs you to throw your hat over the fence.
As the story goes, one day a boy came across a dead-end road, and all there was between him and where he wanted to go was a high fence. He didn't know how to get to the other side. 
As he stood there, not sure what to do, a villager came along and saw that the boy was trapped. He grabbed the boy's hat and threw it over the fence!
"Hey, why'd you do that?!" he shouted at the elder villager.
"Well, son. Your hat's over there, and I can see that's where you want to go. Now, you gotta go there."
"But how?!"
"Your hat's over there, so if you want to see it again, you'll find a way."
The wise man walked off, and the boy scratched his head. Sure enough, some time later he found a way to climb this hurdle before him.
What are you waiting for. It's GO TIME! Throw your hat over the fence and get moving. Your success depends upon it.
See you at the top!
About the Author: Laurie Ayers is a Michigan work from home mom and a Superstar Director with Scentsy Wickless Candles. She enjoys helping men and women start and maintain a home based business in the US, Canada, Poland, Australia, Puerto Rico, Germany, Ireland and the UK. To download a FREE Start Up Guide which provides more details about how to start a home business as well as to learn about our compensation plan go to www.thrivingcandlebusiness.com/how-to-start-a-candle-business/ or for updates on Facebook LIKEwww.facebook.com/ThrivingCandleBusiness and twitter @directsalesblog