"If you want to earn professional pay you need to do professional work." – Orville Thompson, Fmr Direct Selling Association Chairman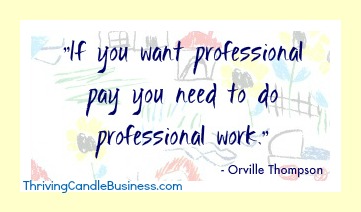 Human Resources professionals give interview advice to dress for the part you want. The same holds true for your direct sales business as it relates to your marketing collateral.  Your business cards, flyers and brochures would be the equivalent of you dressing for the part you want.
The best way to ensure your new direct selling business never gets off the ground is to create your own marketing material. There are exceptions to every rule and I have seen some very professional looking home made business cards, fliers, brochures, etc. Yet those rare cases are not the norm.  For the most part, homemade marketing collateral screams amateur and hobbyist.
Conversely the marketing materials your direct sales parent company provides are valuable tools available for independent consultants.  Use the professional design and printing to portray an image of professionalism. Poor marketing causes more damage than no marketing at all, so take advantage of the pre-designed marketing material provided by your home office. [Read more…] about Professional Pay Isn't Available If You Look Like a Hobbyist