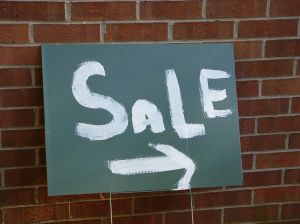 If you are a consultant with an established direct sales company, it's highly likely that your corporate office provides professional marketing collateral, instructions, signage, forms and other tools to aid your business.   A professional image is vital to your business success.
Yet almost daily I am made of aware of consultants who want to make their own marketing collateral, instructions, signage, forms and other tools to aid their business. I don't get it; I really don't.   Why do so many insist on reinventing the wheel? Sure in some cases consultants need to pay for the professionally designed materials, but there are always costs associated with running a business.
Homemade materials generally look amateurish, cheesy and send a message that you're not doing well enough to use professionally printed information.   Also, by the time you factor in your time to create it, paper and ink to print it yourself, and the costs associated with lost business due to the unprofessionalism, you'll end up paying more than if you just used what was provided by your company.
Recently a consultant asked me if I had any instructions that I could share with her.   I pointed out two separate documents that the corporate office had already created – one that is included with every product and the other that is printed in every catalog, along with text and graphics.   She said that she wanted something more personal to send. I really don't mean to sound sarcastic or rude but how do you make simple instructions personal? And why would you need to?
If handmade and home made materials give an unprofessional image, then obviously using professional collateral sends a message of success and appears to legitimize your business. Think about it. You have two business cards side by side, both offering the same product or service.   One is a business card contains mixed fonts, looks sloppy, and is clearly printed on a home printer, possibly even showing perforations around the edges; the other on quality card stock that has been professionally designed by a graphic designer. Which do you choose?
There are times when you may need to create signage to display your specials or ensure visible pricing. For these rare occasions, please be sure to put some effort into the development of the sign. You can quickly undo a professional, classy display with signs hastily scribbled with a Sharpie.
Some consultants argue that they don't have funds to purchase professional materials. I contend that if you are unable to budget for professional business cards from the onset of your business, then it's not the right time for you to start a business.   You don't need to go hog wild and spend hundreds of dollars on printed materials before you ever launch your business.   You can certainly add to your supplies as you see a profit. Or you could forfeit that logo shirt or tote bag that will likely garner little to no return on investment.
If you remember nothing else from this article, remember that you can do much more damage reinventing the wheel with homemade business materials. The cost of business lost due to the unprofessional image will far outweigh the cost of company produced business cards and brochures.
About the Author: Laurie Ayers is a WAHM from Michigan and a Superstar Director with Scentsy Wickless Candles. She enjoys helping others start and maintain a candle business. You can find Laurie at https://la.Scentsy.us or https://www.ThrivingCandleBusiness.com