"If you want to earn professional pay you need to do professional work." – Orville Thompson, Fmr Direct Selling Association Chairman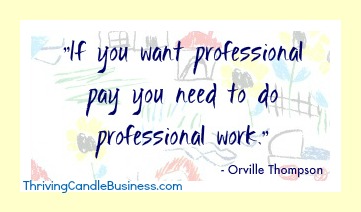 Human Resources professionals give interview advice to dress for the part you want. The same holds true for your direct sales business as it relates to your marketing collateral.  Your business cards, flyers and brochures would be the equivalent of you dressing for the part you want.
The best way to ensure your new direct selling business never gets off the ground is to create your own marketing material. There are exceptions to every rule and I have seen some very professional looking home made business cards, fliers, brochures, etc. Yet those rare cases are not the norm.  For the most part, homemade marketing collateral screams amateur and hobbyist.
Conversely the marketing materials your direct sales parent company provides are valuable tools available for independent consultants.  Use the professional design and printing to portray an image of professionalism. Poor marketing causes more damage than no marketing at all, so take advantage of the pre-designed marketing material provided by your home office.
Can't Afford Not To
Catalogs are quite often the most common marketing tool your direct sales company will provide. Catalogs make great direct mail pieces to send to your prospects, past and present hosts, and past and present customers. I've heard it argued that some consultants lament that they can't afford to purchase the company provided marketing material.  I contend that you can't afford not to.
Whether it's product literature or business opportunity information, use these marketing materials to pass out at parties, to send home with people who have shown an interest in your products, to give out to store clerks, restaurant personnel and others you encounter throughout the day.
If your company provides business cards take advantage of them. If you print your own using an inkjet printer and perforated card stock, it will reflect poorly and let potential customers and prospects know that you're not running your business like a business. You may be able to find some low cost business cards online; though be sure to check with your company policies if you plan to use a third party vendor to print your company logo. However company provided business cards really provide the best brand image.
If you sell a product that is conducive to offering samples, be sure to attach a sample to each of your business cards. We are a society who likes to touch, smell, feel and taste before we make a purchase.
Additional Marketing Materials:
Some companies provide a complete host package with all the invitations, thank you cards, order forms and incentive and goal setting charts while others provide slightly less. Take advantage of these materials. They not only save you money and time, they provide a consistent message to everyone you come in contact with. The same rule applies to all of the marketing material – a business venture is not the place to make up your own crafted materials (unless you have talented marketing and graphic design abilities).
Also check for a template library that may be available for company sponsored images, ad campaign text and newsletters. Again, these materials will save you time and money and save you the embarrassment of trying to act professional but looking like a hobbyist.
Marketing will play a big role in your business success. Rather than spending countless hours and dollars creating your own marketing collateral for your direct sales business you can use the marketing materials provided by your direct sales company. It's a quick and effective way to get your business up and running in no time – and they are tax deductible! Don't scrimp; you'll end up paying for it dearly.
Please Like, Share or Post a Comment!
About the Author: Laurie Ayers is a Michigan work from home mom and a Superstar Director with Scentsy Wickless Candles. She enjoys helping men and women start and maintain a home based business in the US, Canada, Mexico, Australia, New Zealand, Puerto Rico, Germany, Ireland, UK, France, Austria and Spain. To download a FREE Start Up Guide which provides more details about how to start a home business as well as to learn about our compensation plan go to www.thrivingcandlebusiness.com/how-to-start-a-candle-business/ 
Be sure to connect with me on Facebook, Twitter, and Pinterest