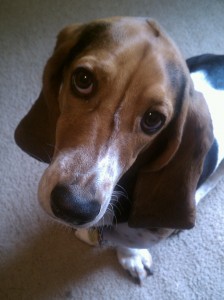 I was watching my tenacious basset hound, Bella, today. She doesn't take no for an answer. Then I started thinking about how many direct sales consultants could learn a lesson or two from Long Dog.
For example, take the word No. Not too many of us like to be told no when there is something we want. This afternoon Bella wanted to get up on my favorite mid-century Danish Modern chair. I told her No. Then in a more "This time I mean it" voice, I told her no again.
She thought better of the idea and walked away looking somewhat defeated.   A short while later I returned to the living room to see Bella Bella Short and Swella sitting in The Chair.  "Get Down, NOW!" I tried to utter in a low but commanding voice. She slowly lifted her droopy eyes, looked at me and eventually got down.
So is this dog stupid? On the contrary.   She knows what she wants and she's not going to let a little No get in her way. Now it's a battle of wills. I don't want her up on the furniture and she wants to be up there. Of course I wear the pants in this house and she will have to listen to me, but that is not to say she won't keep trying.
Bella says: No means No for now. Not No forever.
What's the takeaway from this? Just because people tell you No when you talk with them about purchasing your products or possibly starting their own direct sales business doesn't mean you should give up. No means no for now, not no forever. Timing is everything and perhaps the timing wasn't right for the person you were speaking with.
Like Bella, after a while, go back and try again. But you'd do well to ask if it's okay if you check in with them in a few months. Or they may have spoken loudly enough that you know you haven't a chance at getting a different response – not in four months and not in four years.
Don't let their No speak for all the others you have yet to approach. Their no simply means No for now. That's it. It doesn't mean your business opportunity isn't working. It doesn't mean no one wants to buy any. It merely means you received a no. Get used to it. You get lots of noes in sales.
Bella will get many more Noes in her lifetime too, but it won't stop her from trying. Nor should it stop you either.
About the Author: Laurie Ayers is a Michigan work from home mom and a Superstar Director with Scentsy Wickless Candles. She enjoys helping men and women start and maintain a home based business in the US, Canada, Mexico, Australia, New Zealand, Puerto Rico, Germany, Ireland, France, Spain and the UK. To download a FREE Start Up Guide which provides more details about how to start a home business as well as to learn about our compensation plan go to www.thrivingcandlebusiness.com/how-to-start-a-candle-business/ or for updates on Facebook LIKE www.facebook.com/ThrivingCandleBusiness and twitter @directsalesblog