If you're an independent direct sales consultant, you're a business owner. Professionalism is a must if you want to succeed.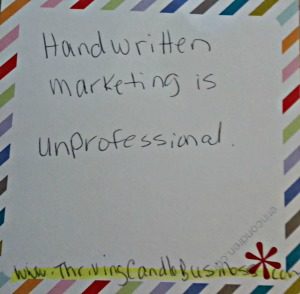 One of my favorite acronyms to remember in business is RYBLAB: Run Your Business Like a Business.
The only time handwriting is appropriate in business is a personal thank you note.
All other marketing should be typewritten using labels, ink stamps or not good but acceptable, typed up labels printed off the computer then carefully cut out and taped.
Marketing that should never be handwritten: Contact info on catalogs, business cards, samples, table displays, and signage.
I have seen some consultant displays with their table lined with butcher paper or a chalk board. Then they wrote the product categories or marking slogans with chalk or a marker. It looks so unprofessional. I've also heard some consultants sing the praises of this type of display. I suppose I could concede that if someone has impeccable penmanship, then maybe. But the ones I have seen look like bad, kiddie birthday party crafts.
Those who don't want to acknowledge handwriting in business is unprofessional, argue that they don't have a printer or an ink stamp or that it's not a big deal.  It's not a big deal if it's just a hobby for you. But if you're running a business and want find others to buy, host or join, then you must RYBLAB (Run Your Business Like a Business).
Please Like, Share or Post a Comment!
About the Author: Laurie Ayers is a Michigan work from home mom and a Superstar Director with Scentsy Wickless Candles. She enjoys helping men and women start and maintain a home based business in the US, Canada, Mexico, Australia, New Zealand, Puerto Rico, Germany, Ireland, UK, France, Austria and Spain. To download a FREE Start Up Guide which provides more details about how to start a home business as well as to learn about our compensation plan go to www.thrivingcandlebusiness.com/how-to-start-a-candle-business/ 
Be sure to connect with me on Facebook, Twitter, and Pinterest