If you're an independent direct sales consultant, you're a business owner. Professionalism is a must if you want to succeed.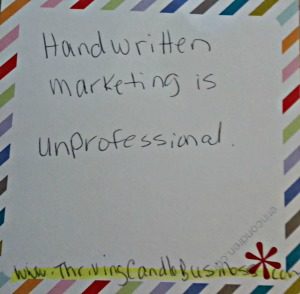 One of my favorite acronyms to remember in business is RYBLAB: Run Your Business Like a Business.
The only time handwriting is appropriate in business is a personal thank you note.
All other marketing should be typewritten using labels, ink stamps or not good but acceptable, typed up labels printed off the computer then carefully cut out and taped.
Marketing that should never be handwritten: Contact info on catalogs, business cards, samples, table displays, and signage.