Hey wait a minute.Were you looking for this website?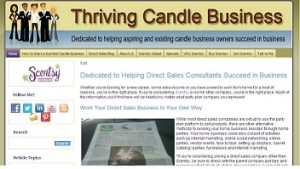 You found it.Thriving Candle Business recently underwent a facelift.  It was time to shake things up a bit. It's still loaded with information relevant to anyone in direct sales or who may be considering a direct selling business opportunity.
It also still contains loads of information specific to Scentsy Fragrance.
Why I dropped the words Candle Business in the header
I've been in direct sales since 1988. If my math serves me correctly, that's twenty six years. Many of those years I've been in the candle industry. I'm an admitted waxaholic.  I've also personally represented nutritional companies (Matol Botanical and E'ola for those inquiring minds). Though the main reason is that much of what happens within direct sales and in party plans is transferable.
It doesn't matter if you represent candles or chocolate or purses or jewelry or kitchenware or any other products. Information about home parties, recruiting, personal development, marketing, networking – those are all topics that anyone in any direct sales business can use.
So grab a beverage, settle in and nose around a bit. You may find some new features, although much of the former Thriving Candle Business website is still here, it's just reorganized.
Leave a comment and let me know what you think.