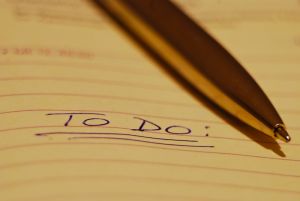 Now that you're a direct sales consultant or promoted to a direct sales leader / director / manager what are you supposed to do?
Below you will find a list of activities you can do. These are many of the activities that I do or have done.  Some activities you will want to do daily, others weekly and others less frequently. You do not have to do all of these. Consider it a menu of possible actions you can take.
Check email
Post on Group/Team Facebook & Fan Page
Post on LinkedIn
Tweet, RT and reply on Twitter
Update pins on Pinterest
Check Work at Home forum for opportunities to contribute
Write blog post on your own blog
Guest blog post for others
Label/stamp   catalogs, recruiting brochures, envelopes, product, promotional flyers
Makes product samples
Compile business opportunity packets
Review reports for team members sales, promotions, milestones, birthdays, anniversaries
Send emails or snail mail to team members based on actions from #11.
Mail Scent of the month flyers and samples to mailing list
Read policies, newsletters, news updates
Participate in training – phone calls, video, webinar or text
Send welcome emails to new team members
Contact newer team members to see if they're overwhelmed
Attend regional seminars
Attend annual convention
Attend incentive trip
Attend team meetings
Set up product displays in businesses
Reserve table space at upcoming vendor events
Prepare for upcoming vendor events
Follow-up on leads from vendor events
Contact organizations about setting up fundraiser
Promote online party
Contact past, present and future hosts
Facilitate home parties
Create YouTube videos and promote
Send out basket parties
Sharpen the saw – read books, articles, listen to podcasts or watch videos for personal development
Attend Toastmasters meetings
Send random "I caught you doing great!" notecards or small tokens of appreciation.
One of the best pieces of advice I can give anyone just getting started in direct sales or in their new role as a leader is to Make It Your Own!   If you try to run your business using your upline's style, preferences or actions it may not be the right way for you to work your business.
Let me elaborate more on that. It's also good advice that if you want to be successful, find out what those who have gone before you are doing, and do that.   I agree with that, why invent the wheel? But, to get back to the previous paragraph of making it your own, don't copy someone exactly.   Think of it like plagiarism. You don't want to copy someone verbatim. It's okay to take an existing idea and tweak it to your personality. There really are no original ideas anymore, they're just existing ones with individual spins put on it.
If your trainer, mentor, coach says, "Here is how you do it. You do A B C, and then you say X Y Z" take it with a grain of salt. Do not copy that person verbatim.   Take what you like, and discard the rest. Use your upline's information, and the list below as a GUIDE. Consider it a menu from which you can select a variety of items, or you can take something listed and reinvent it to suit you.
See you at the top!
About the Author: Laurie Ayers is a Michigan work from home mom and a Superstar Director with Scentsy Wickless Candles. She enjoys helping men and women start and maintain a home based business in the US, Canada, Mexico, Australia, Puerto Rico, Spain, France, Austria, Poland, Germany, Ireland and the UK. To download a FREE Start Up Guide which provides more details about how to start a home business as well as to learn about our compensation plan go to https://www.thrivingcandlebusiness.com/how-to-start-a-candle-business/