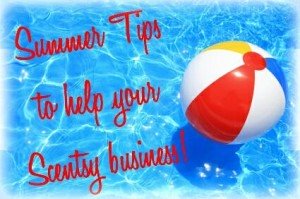 This Top 10 List to help your Scentsy business was originally developed by Superstar Director Melissa Gratz. She put it out a few years ago during the holiday season. I liked it so well I just tweaked it a bit (with her permission). The fun graphic was created by Superstar Director Christina Osburn.
Top 10 Summer Tips to Help Your Scentsy Business:
10. Make THE SALE, and wear a smile on your face while doing it.
Love what you do. When you do, it shows, it's contagious, and it makes people WANT to do business with you. Say these words in your head. Then say them out loud: "No Limited Time Only promotion or back ordered item is going to break my business, or slow me down. So what if someone needs to make a second choice?" 
9. Spray every piece of USPS mail you send with a Scentsy Room Spray.
While you're at it, spray the cash in your wallet. You will pay for your items with the best smelling money in town.
Take pre-orders. Just remember you're only gauging interest. As per our Standards, you can't collect any money with pre-orders unless you'll be able to submit the order to Scentsy within five (5) days of receiving the money or credit card. Place your orders in July and you'll have them in time for sending your favorite college kiddo off to school. Find the upcoming S/WOTM promotions in your workstation.
7. Don't make assumptions about who needs more Scentsy or who may want to join or host:
Don't assume people know you have your own business, don't assume that people have enough, don't assume everyone knows what it is – DON'T ASSUME!
6. Carry your testers with you EVERYWHERE.
Keep a cooler, or thermal pack with an ice pack in your vehicle if you have to so that they don't melt in the warm car.
5. Make sure your car is loaded with catalogs, biz cards, & samples/testers.
You just never know who will see your Scentsy t-shirt, car vinyl, or smell you when you walk by wearing your favorite Scentsy Body products (or you sprayed your hair with aromatic room spray…just be sure to spray your locks, not your scalp unless you want to look like you haven't shampooed in a bit).
4. Check the News Tab of your workstation DAILY!
This is where you'll find an updated list of back-ordered items and special seasonal promotions.
3. Everyone in your life should be getting Scentsy 
Or more for the birthdays, graduations, thank you or Just Because gifts. Give a gift that you make commission on – and promote your business at the same time!
2. Put Your Order In Now
If you are thinking about ordering it, or have been meaning to order it, or it's a Limited Time Only (LTO) promotion, ORDER IT! If you're waiting on a customer who is waiting on payday, you may want to get your order in, and advise the customer to order online when her funds are available, otherwise you could miss out.
1. HAVE FUN.
Be joyful. Smile. Laugh. Make people wonder what makes you so happy. Be grateful. And don't forget to breathe because one day, you will be out of breaths.
Stay safe, don't forget sunscreen and I'll see you at the top!
Please Like, Share or Post a Comment!