Scentsy Stargaze warmer is brilliant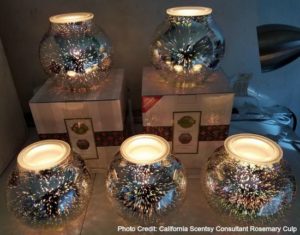 After the overwhelming success of our January 2017 Warmer of the Month limited time only, we have included Stargaze warmer in our Catalog.
In its first hour, it sold more than most Warmers sell in a year. Preparing for such demand was impossible, but making sure your customers got their hands on this beautiful Warmer as soon as possible was our highest priority.
This spectacular Stargaze Warmer is now available to order here from www.IncomeWax.com. 
Keep in mind each Stargaze warmer features a dazzling display of light and color so special, therefore no two are quite alike! When lit, each Star gaze Warmer offers its own unique combination of mesmerizing streaks and bursts that simply must be experienced. Some of these are loaded with color, others are more brilliant with clear, champagne-colored bursts.  These are stunning warmers and it's important to understand they are all uniquely different in amount of color and light patterns.
Don't miss this opportunity to order this truly one-of-a-kind Stargaze Warmer.

Please Like, Share or Post a Comment!
About the Author: Laurie Ayers is a Michigan work from home mom and a Superstar Director with Scentsy Wickless Candles. She enjoys helping men and women start and maintain a home based business in the US, Canada, Mexico, Australia, New Zealand, Puerto Rico, Germany, Ireland, UK, France, Austria and Spain. To download a FREE Start Up Guide which provides more details about how to start a home business as well as to learn about our compensation plan go to www.thrivingcandlebusiness.com/how-to-start-a-candle-business/ 
Be sure to connect with me on Pinterest