What happened to authentic marketing in direct sales?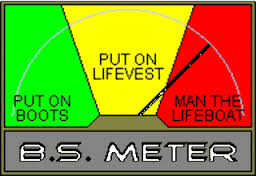 Wait, before you throw rotten tomatoes at me, I absolutely know much of direct sales advertising and marketing IS accurate and authentic. If you are ethically representing your company then you're doing the right thing and I'm not referring to you.
What I'm referring to are the rogue independent consultants who are promoting the benefits of their products online so as to reflect a more positive experience than what may be the actual situation.  I tend to see it more often with consultants who represent a product line specific to health and beauty.
I'm not going to call anyone out; those who do it know who they are. And if they think they're getting one over on us, it's only temporary for those who fall for it. Once they shell out hard earned money and find they are not getting the results you showed then you've lost a customer and gained more bad press.
I'm Calling BS
Allow me to give an example of what I have been seeing more and more of lately. A consultant representing "Company X" claims she has a product that will drastically grow hair on your head. She even shows her own results in a before and after photo of how much her lovely locks grew in just two short weeks. It's amazing I tell ya! It's practically unheard of!
But wait … look closer at the back of her hair. In the first photo she's looking down, with her chin toward her chest. You can tell by looking at the top of her head.  And in the second, supposedly two weeks later, she's looking up toward the ceiling. You can tell by a couple of things – 1. She's holding her cell phone up higher to snap the pic and 2. The top of her head isn't level.
Hello – I did that as a kid when I wanted my hair to appear longer. I'd look up as high as I could, which brought the ends of my hair down further into my back. Then I would swing it around and say "Look, I have long hair – only I'd say it sounding all suave and debonair – so hair sounded like harrrrrrrr.
Still More Shenanigans
I saw another similar photo (just who is teaching these consultants this tactic) where the "before" photo looked like she was just back from the beauty parlor with a perfectly even bottom line at the ends of her hair – y'know, freshly trimmed.  Then the supposed "after" photo taken two weeks later and at least four inches longer, showed entirely different hair color and the ends were no longer even but in desperate need of trimming off the split ends. Basically the before photo was really the after photo, after her favorite stylist gave her a new 'do.
Now I'm not saying the product does or does not work. I'm not about to fork over my hard earned money to find out. I also can grow hair like it's nobody's business – so much so that it's a curse, not a blessing. Regardless – IF you're so convinced it works, why doctor up photos to try to prove it does? Why not just offer a money back guarantee if not satisfied?
If you have a quality product you don't need a gimmick. You've heard it since you were a wee tot:
Honesty is the best policy
That applies to promoting your direct sales products too!
See you at the top!
Please Like, Share or Post a Comment!
About the Author: Laurie Ayers is a Michigan work from home mom and a Superstar Director with Scentsy Wickless Candles. She enjoys helping men and women start and maintain a home based business in the US, Canada, Mexico, Australia, New Zealand, Puerto Rico, Germany, Ireland, UK, France, Austria and Spain. To download a FREE Start Up Guide which provides more details about how to start a home business as well as to learn about our compensation plan go to www.thrivingcandlebusiness.com/how-to-start-a-candle-business/ 
Be sure to connect with me on Facebook, Twitter, and Pinterest