Scentsy Lilo and Stitch scented collection now available at IncomeWax.com for a limited time only.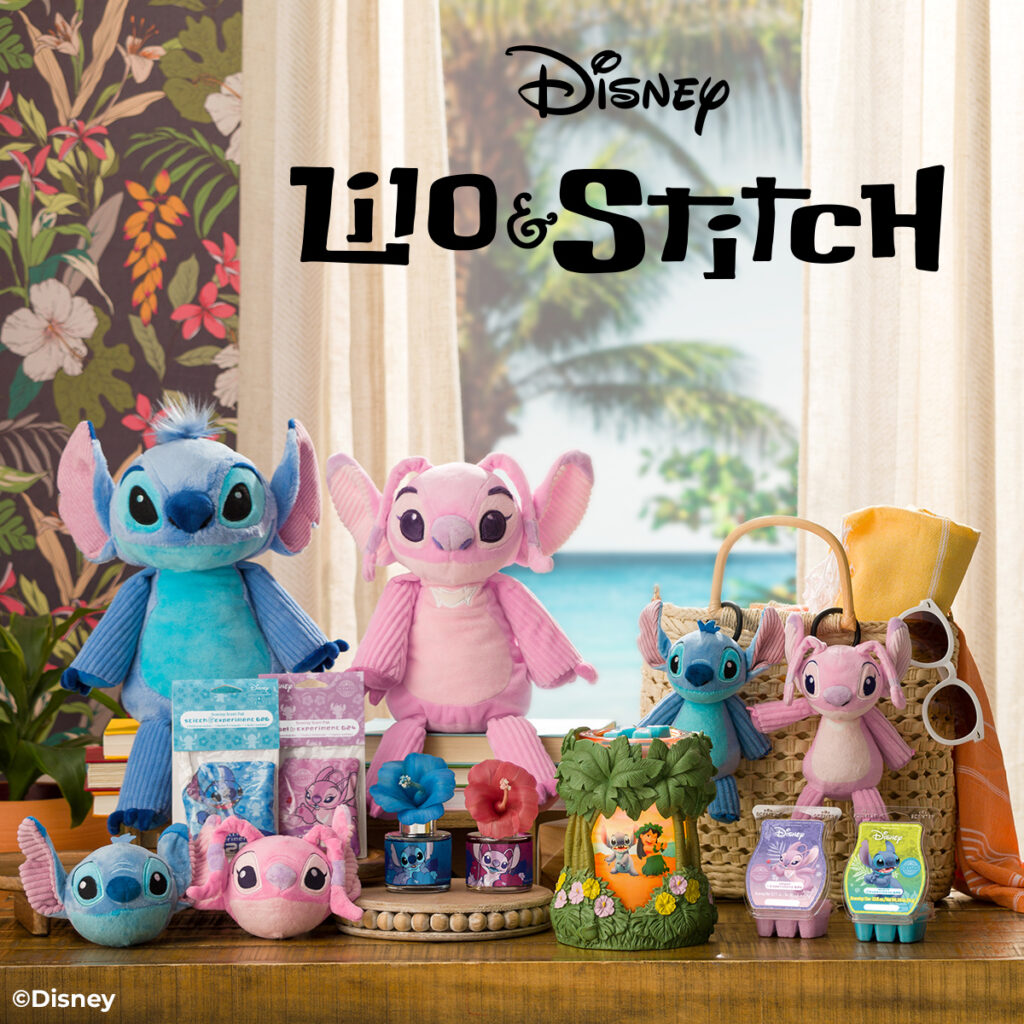 Say aloha to new Disney Lilo & Stitch products
New and returning products available now while supplies last
What: Disney Lilo & Stitch Collection
Add a little aloha to your life with the fun and fragrant Disney Scentsy Lilo and Stitch Collection.
Fans can enjoy their own piece of paradise with the new Disney Lilo & Stitch: Aloha-Ohana – Scentsy Warmer. The interior glass shade features two different scenes, so you can choose your favorite or mix it up as you please.
We're also excited to introduce new Stitch and Angel – Scentsy Buddy Clips and our first licensed Fragrance Flowers. The new Fragrance Flowers are a hibiscus design and feature colored fragrance oil (blue for Stitch and pink for Angel), so petals gradually change color as the oil is absorbed! Both the packaging and product labels also include designs for their characters.
We have plenty of other products returning in this collection, including the fragrances created exclusively for these loveable experiments:
Stitch: Experiment 626 — A specimen like Disney's Stitch requires the perfect formula, and this beaker-full of Valencia orange, pineapple nectar, sugarcane and sea salt mist is the sweetest catalyst.
Angel: Experiment 624 — A unique creation like Disney's Angel calls for a complex concoction. This mischievous mix draws you in like a siren song with a blend of goji berry and blackberry reacting just so with sweet vanilla cream and sugarcane.
Below are the Scentsy Lilo and Stitch purchasing options that are available at IncomeWax.com. Remember these are LTO (Limited Time) and likely to sell out quickly.
New! Disney Lilo and Stitch: Aloha-Ohana – Scentsy Warmer, $70
New! Disney Stitch: Experiment 626 – Hibiscus Fragrance Flower (with blue oil), $20
New! Disney Angel: Experiment 624 – Hibiscus Fragrance Flower (with pink oil), $20
New! Disney Stitch – Scentsy Buddy Clip scented in Stitch: Experiment 626, $20
New! Disney Angel – Scentsy Buddy Clip scented in Angel: Experiment 624, $20
Disney Stitch – Scentsy Buddy + Stitch: Experiment 626 – Scent Pak, $40
Disney Angel – Scentsy Buddy + Angel: Experiment 624 – Scent Pak, $40
Disney Stitch – Scentsy Bitty Buddy scented in Stitch: Experiment 626, $14
Disney Angel – Scentsy Bitty Buddy scented in Angel: Experiment 624, $14
Stitch: Experiment 626 – Scentsy Bar, $6.50
Angel: Experiment 624 – Scentsy Bar, $6.50