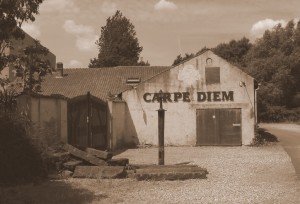 Many corporate conventions take place in the summer. It's an exciting event full of exciting announcements.   New products will be released in the fall; incentive trip locations are announced; awards are given and have I mentioned – it's exciting.   The Pomp! The Circumstance! The Rah Rah! The Pep Rally! Conventions can be motivating and give consultants a needed boost to their somewhat slow summer season. The future looks bright and you are pumped up!
You return from convention on fire! You're ready to tell the world about all the fantastic new products coming in the fall. Your mind is racing a million miles a minute and you are thrilled with your new found motivation.   Mission accomplished.
But wait; reality check a moment: are you sacrificing your current month because you're so overcome with excitement for things to come in the fall? I know many consultants certainly are. They're emailing the upcoming catalog to everyone they know; they're offering special offers and they can't stop talking about anything other than the future changes.
It's true that direct sales is a business where you need to keep on keeping on. It's like exercise; you can't just do it once in a while and expect grandiose results.   Direct sales also requires forward thinking.   If you start to fill your calendar for Christmas sales in November, it'll be too late. That said, one could argue that it's good that consultants are hyping up September products in early August. It is important to fill your calendar for September. Though you already knew during the slow June and July months that there would be a new catalog in September; then would have been the time to contact hostesses to lock in a September date.
What is happening in August? Sometimes closeout sale items; sometimes discontinued items; sometimes recruiting benefits. If your company is offering any of the above August specials, then August is the time to be taking full advantage of them.   Your customers will want to know if their favorite product is being retired or discontinued or if there is an opportunity to save some money. August is also a big recruiting month, as new business owners prepare for a busy holiday season.
Yet those who are so focused on all novelties of convention – of things to come in the future, at the expense of ignoring the present are sacrificing their current month.    There are still a full two weeks left in August.   Are you prepared to leave it all on the field?   Or have you already gone back into the locker room?
About the Author: Laurie Ayers is a Michigan work from home mom and a Superstar Director with Scentsy Wickless Candles. She enjoys helping men and women start and maintain a home based business in the US, Canada, Mexico, Australia, New Zealand, Puerto Rico, Germany, Ireland, France, Spain and the UK. To download a FREE Start Up Guide which provides more details about how to start a home business as well as to learn about our compensation plan go to www.thrivingcandlebusiness.com/how-to-start-a-candle-business/ or for updates on Facebook LIKE www.facebook.com/ThrivingCandleBusiness and twitter @directsalesblog