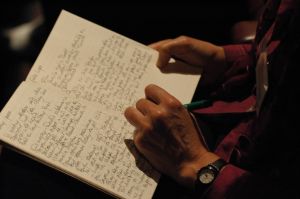 Having an online business is a wonderful thing. At this point in my life I can't imagine having it any other way. I have my internal customers – my downline team members, and also my external customers – those who order from my website. One of the key factors in maintaining an online customer base is going offline.
While email is so convenient and a great tool to manage a large organization, it's missing a human element. The time that I save with emails allows me more time to write hand written notes. And I do write many handwritten notes almost daily. For example:
Thank you notes for online orders; and I mention something specific about their order so they don't just think it is a generic note.
Follow up cards to customers who have not ordered in two or more months
Welcome to the team for new consultants
Congratulations on your promotion
Keep up the good work, I caught you excelling
I appreciate you
With so much of our life online now, including bills and even junk mail, it's refreshing to get snail mail. Also the fine art of saying Thank You seems to be a rarity in some circles. I obviously take on this labor of love because I know that great customer service will ultimately help my business; but more so I do it because it's the right thing to do.
There's also the unexpected element. Most people will admit they don't often get a mail piece that has the sole purpose of gratitude, with no hidden agenda. With the exception of my follow-up-time to reorder notices, all other correspondences are meant to simply show appreciation.
One could also argue that the follow up notices aren't much different than the courtesy notices you get from the dentist telling you it's time to reschedule a visit. We all live such busy lives that few would complain about reminders.
I would encourage anyone who has online customers to take some elements of your business offline. You will see a pay off and you'll be leaving a lasting impression with your customers. The caveat to that however is that you must be genuine. If you're writing to people simply with the intent to get more sales, and you're unable to be authentic about your appreciation, then you're better off not doing it at all. It can do more damage than good.
Everyone wants to be appreciated, so if you appreciate someone, don't keep it a secret. – Mary Kay Ash
About the Author: Laurie Ayers is a WAHM from Michigan and a Superstar Director with Scentsy Wickless Candles. She enjoys helping others start and maintain a candle business. You can find Laurie at https://la.Scentsy.us, https://www.ThrivingCandleBusiness.com or https://www.Twitter.com/thrivingcandle