Thank you to all the Scentsy Consultants who listened to me speak on the Language of Selling and Power of Words at the 2017 Scentsy Family Reunion in Kansas City. I hope you had as much FUN as I did, and learned something.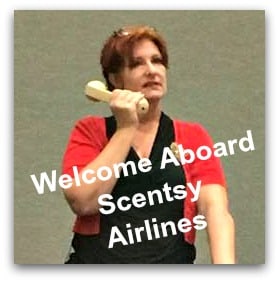 Scentsy Airlines (You can be as good as SWA Flight Attendants)
Current Situation
I think part of the problem with not getting bookings or recruits from parties – whether online, in-person or at an event is because of the way consultants are interacting. Some are either being too in-your-face desperate, or they're not speaking up at all or asking for the close, and they're not making it look like anyone could say – "Oh wow, I could do that!" If this describes you – no worries. These are all fixable; and starting today, you can change the way you're approaching your business.
Think FUN, not Funny
If you can incorporate humor, you will put yourself more at ease, be memorable and others will want to do business with you. Not suggesting you all need to be comedians, but be human, be transparent. When starting out, focus on making them smile, not laugh. It'll take the pressure off you to be funny. A sense of humor is an attitude about how you approach your work and life. It can be developed.
Practice. Know where you're going with your presentation. That doesn't mean memorize it word for word or read scripted note cards. If you are prepared you won't have to worry about what you're going to say next, so it'll come off much more conversational and relaxed.
Get your opening down. You have 7 seconds before your audience decides if they want to listen to you or not. Work on how you will start your first 30 seconds. "Hi, my name is …" is the wrong way to start = BORING. If you're doing a home party, let the host introduce you so then you can start off with a bang and get their attention.
Acknowledge the obvious. If you're nervous and sweating like a pig, you know your ears are red or neck is blotchy, say so. If you forgot to bring something significant, or if there's not enough seating (a good problem to have) say so. If you have a disability or an accent, acknowledge it so they won't be spending time trying to figure out where you're from or are focused on some physical issue. Embrace nerves, it's a sign you're alert, in heightened state. You're ready. Stretch first – hands over head. Clothes – comfortable, dark to hide sweat. Appropriate.
Know your audience. Do your homework or ask the host who will be at the party so you can make local references. Work the room before hand, make connections.
Speak from your heart. Why do YOU like Scentsy? Draw upon your life experiences that others can relate to. Don't be afraid to show you're human. Ask if they've ever left the house or gone to bed with a candle burning, or worried that they didn't snuff it out. I sure did. I was a consultant with Partylite for many years and often would be at work worried if I left a candle burning.
Think of your Firsts and Fails. Show your own weakness. Perhaps you tried to pour the wax out of a plug-in warmer. You wouldn't be the first and they'll remember not to do that with their own. It's important to be yourself. Make your presentation your own. You can watch other consultants do their parties but use that only as a guide, or as ONE way to do it. If you try to be someone you are not, you'll be uncomfortable, which will make the guests uncomfortable. YOUR business, YOUR style.
Memory Palace technique to help you remember what to say next. Google for more info.
Speak louder to avoid crutch words. Ah, um, er, so, and.
Use hand gestures. No petting the hamster.
Command attention. Have you ever done a party where the guests were all liquored up, loud and not focused on what you were attempting to achieve? "Clap if you can hear me."
Trust yourself and your material. If you look like you know what you're doing, people will believe it and that confidence is infectious. Remember people are fundamentally good at heart. Nobody wants to see a speaker doing badly. They want to see you succeed. Give them reason to think you will. Fake it until you make it.
Don't run the clock. Start on time. End on time. Respect others' time.
The only way you'll get better is stage time. You cannot skip this step.
Remember the SWA difference. Set yourself apart. Have fun.
Word Choice – few tips to keep in mind for WHAT to say.
You HAVE to remain customer focused – You, Your (omit my, me, I've, Do me a favor)
Including "Because" will help them see that you're thinking of them. (I'm putting an order in tonight and wanted to see if I can add something for you BECAUSE that way you can get free shipping. Our candle bars have 8 break apart sections BECAUSE you control how much you use based on your own preference.)
They'll remember how you made them feel – Thank you, You're welcome, I'm happy to, my pleasure, hearing their own name. It seems like a blinding glimpse of the obvious, but you'd be surprised how many do not use these.
Broaden vocabulary, give them a verbal description they can Speak as if you're talking to a radio audience who can't see or smell what you're talking about. Be descriptive. Invoke memories. (So much more than "Excited and Amazing".)
Be okay with silence – you don't need to fill every space with words.
Listen for opportunities to ask questions

"I'm thinking about joining Scentsy." Great! Why do you think you want to be a consultant? Are you familiar with our host program/compensation program?
"Scentsy is too expensive." Don't go into justification mode. Instead ask, "Why do you say that?" Then listen. You may find they weren't properly instructed how to use it.
"Do you have any tips? Can you help me?" What are you looking for? What specifically have you done, said, challenges you've run into?
Please Like, Share or Post a Comment!
Be sure to connect with me on Pinterest