Scented Masterminds at Work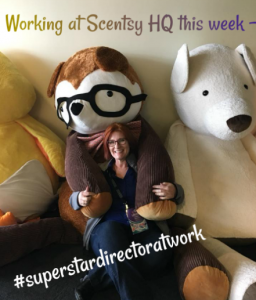 This week I am working at Scentsy headquarters with approximately 40 others leaders who earned the Annual Mentor Award. We are brainstorming and collaborating on the subjects of recruiting and sponsoring. It's an honor to be here helping to keep our company moving forward.
I love that Scentsy is asking those in the field with a proven track record for advice, input and suggestions. Too many places create policy and programs from their ivory tower and don't take into consideration "life on the street, where the rubber meets the road."
Best Recruiting, Sponsoring Mentoring Advice All Week
It's been enlightening hearing what other leaders do or say. I wish I knew who to credit this gem below to. I'm sure it was one of our Rockstar consultants who said it. It's my all-time favorite "THIS!" moment so far. As it relates to how to best recruit new team members:
I'm not a hunter with my spear, going after people. I'm feeding the birds.
Then envision hands cupped together, palms upward, outstretched arms, offering a handful of seeds to all who are in the area.  It's a much gentler, welcomed approach. Simply share what you love and connect with people. It really is that simple.
Isn't that fabulous?
Have You Considered Joining Scentsy?
If you have thought about joining Scentsy, but haven't yet, what's holding you back? Whether you want to earn $50 a month, or $5,000+, or need at outlet to get out for adult time, or want to earn free trips, or some other reason, Scentsy can be that for you.
Want to chat a bit to see if it might be right for you? Hit me up.