While shoveling snow this morning  I was recalling a time when I received a new 1.5″ Digital Pocket Viewer as a gift. (Yes your mind wanders looking at all that white stuff day after day, after day). So anyway…. I was thinking about this little gadget I received.  It was before I had a smart phone so I didn't have any way to keep in my purse digital photos of my kiddos.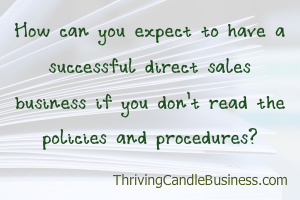 The first page of the little manual read:   READ ALL INSTRUCTIONS BEFORE USE.  I remember thinking how difficult could this little gizmo could be, as it was merely a little plug and play device.   It was written in all caps, so the warning scared me into actually reading all instructions before use.
At the very bottom of paragraph two I read (again in all caps) DO NOT LAUNCH THE SOFTWARE YET.    We all know someone or many someones who never read instructions. They can just figure it out … or so they think. In this particular case launching the software at that point would seem like a natural thing to do.
Then I started thinking about all the people who sign up to be consultants for home-based companies. (I told you the snow shoveling mind wanders). Most independent consultants are either given or have access to the company policies and procedures.   It is my understanding that most enrollment processes require that new consultants also need to sign or click that they have read, and agree to the information contained in the policies and procedures.   They affirm that they have READ ALL INSTRUCTIONS BEFORE USE.   However it has been my experience that truly, most do NOT read the policies and procedures before beginning their business.
These are the same people who think running a business is as easy as a plug and play device.   They are the same people who "launch the software" before it's time.   These are the same people who don't have a clue how their compensation works or what the qualifications are for rank advancement.
If I had opted to just plug and play my little 1.5″ Digital Pocket Viewer and then preceded to launch the software before taking other steps, it simply wouldn't work.   And I wouldn't have any idea what was wrong or how to fix it.   If you sign up to start a home business, be it candles, jewelry, gourmet food, makeup or any other wonderful products, it simply will not work if you don't READ ALL INSTRUCTIONS BEFORE USE.
Out of all the questions asked on company specific consultant forums, I venture to guess that 99.9% of them could be answered if consultants only took the time to RTFM – Read the Fantastic Manual. Take some time to read all instructions before use – you might be pleasantly surprised what you learn!

About the Author: Laurie Ayers is a Michigan work from home mom and a Superstar Director with Scentsy Wickless Candles. She enjoys helping men and women start and maintain a home based business in the US, Canada, Poland, Australia, Puerto Rico, Germany, Ireland and the UK. To download a FREE Start Up Guide which provides more details about how to start a home business as well as to learn about our compensation plan go to  www.thrivingcandlebusiness.com/how-to-start-a-candle-business/  or for updates on Facebook LIKE  www.facebook.com/ThrivingCandleBusiness