While shoveling snow this morning  I was recalling a time when I received a new 1.5″ Digital Pocket Viewer as a gift. (Yes your mind wanders looking at all that white stuff day after day, after day). So anyway…. I was thinking about this little gadget I received.  It was before I had a smart phone so I didn't have any way to keep in my purse digital photos of my kiddos.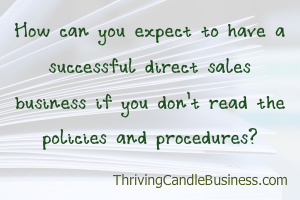 The first page of the little manual read:   READ ALL INSTRUCTIONS BEFORE USE.  I remember thinking how difficult could this little gizmo could be, as it was merely a little plug and play device.   It was written in all caps, so the warning scared me into actually reading all instructions before use.
At the very bottom of paragraph two I read (again in all caps) DO NOT LAUNCH THE SOFTWARE YET.    We all know someone or many someones who never read instructions. They can just figure it out … or so they think. In this particular case launching the software at that point would seem like a natural thing to do.
Then I started thinking about all the people who sign up to be consultants for home-based companies. (I told you the snow shoveling mind wanders). Most independent consultants are either given or have access to the company policies and procedures.   It is my understanding that most enrollment processes require that new consultants also need to sign or click that they have read, and agree to the information contained in the policies and procedures.   They affirm that they have READ ALL INSTRUCTIONS BEFORE USE.   However it has been my experience that truly, most do NOT read the policies and procedures before beginning their business. [Read more…] about Read All Instructions Before Use