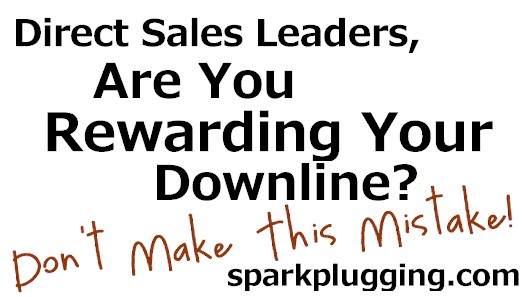 This blog post originally appeared in my WAHM column on Sparkplugging.com in July 2013
From the What Not to Do File:
Don't give your team members prizes and gifts from another direct sales company
Consider this scenario: A direct sales consultant has some downline team members. She wants to offer a sales incentive because her numbers are a little slow.
Instead of offering as prizes some extra product from her company so team members can build their inventory, she wants to offer something different.
Instead of offering some business supplies to help build their own businesses, she wants to offer something different.
Instead of giving them a Starbucks or Amazon gift card so they can have a drink on her or pick up something to help their business, she wants to do something different.
She decides to buy prizes from another direct sales consultant with another company.
Don't get me wrong, I'm all for supporting independent consultants. I purchase from other consultants on a fairly regular basis … but for PERSONAL USE!
Why would I not utilize my own company products which I could earn commission, add to my needed volume and help team members build their inventory? Or if I opted to do something non-company related, such as Amazon, the recipients could select what they wanted.
But by giving products to her team members from another direct sales company, here's what she's telling her team members:
We don't offer anything that could help your business or that you would like. In fact, I'm going to give you something that this other company offers, and if you like it, you might want to leave my team and sign up with that company, then you can buy more and earn commissions on it. Or maybe you don't want to leave my team, but you can still sign up with another company, then your efforts, attentions and funds will be divided so you won't be selling or buying as much with my company, but I am okay with that, otherwise why would I be pushing you away?
Wait! It gets better.
I just heard a story of a team leader buying products from another company to give her team, and the items she bought were something very similar to what her own company carries! When I asked her about why she would do that she responded that the rep with the other company bought a lot from her so "she felt obligated!"  Yikes. If you're the type who feels obligated to buy from people, let me give you my webstore address!  Or perhaps purge your guilt, but for gosh sakes don't give the items you bought out of obligation to your own team members!
I just don't understand who would think this is a good idea!
Consider the bottom line.  Consider profit margin.  Consider whether or not what you're about to participate in will increase sales – that is, sales of your own product line.
If the action you take today won't lead you closer to the next customer, host or recruit, it might be time to rethink your action plan.  If you're a direct sales independent consultant, you'll do well to stick to offering your own product line.
Please Like, Share or Post a Comment!
About the Author: Laurie Ayers is a Michigan work from home mom and a Superstar Director with Scentsy Wickless Candles. She enjoys helping men and women start and maintain a home based business in the US, Canada, Mexico, Australia, New Zealand, Puerto Rico, Germany, Ireland, UK, France, Austria and Spain. To download a FREE Start Up Guide which provides more details about how to start a home business as well as to learn about our compensation plan go to www.thrivingcandlebusiness.com/how-to-start-a-candle-business/ 
Be sure to connect with me on Facebook, Twitter, and Pinterest