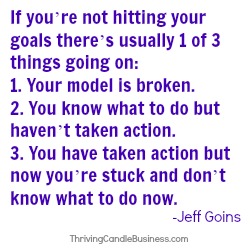 I participated in a Jeff Goins webinar this week about building your audience. One of the things he said that stuck with me is:
If you're not hitting your goals, there's usually 1 of 3 things going on:
Your model is broken.
You know what to do but haven't taken action.
You have taken action but now you're stuck and don't know what to do now.
If you fall into the above, then you need a guide to help mentor you through.
I keep thinking about how this relates to direct sales independent consultants who haven't been hitting their goals. There are usually one of three things going on:
1. Your model is broken.
This refers to how the consultants are working their business, not the parent company. Most successful direct sales companies have a strong business model. Party plan businesses such as Scentsy are structured so that consultants earn commission from personal sales and leadership bonuses from building a team.
You've heard that TEAM stands for Together Everyone Achieves More. In direct sales this is certainly true. You could work your business all on your own and just earn commission on personal sales, or you can also build a team and earn the "second half" of income available to you.
Often if a consultant isn't building a team they hit a plateau and will not be able to meet their goals. This would be an example of their model is broken.
2. You know what to do but you haven't taken action.
This reason for not hitting goals happens most often to consultants who may have started off doing well, may have earned some promotions and then either stalled out or backslid. Sometimes life gets in the way and the direct sales mojo gets put on the back burner. It's not a matter of not knowing what to do. It simply requires taking action again, or relaunching what worked in the past.
Perhaps you stopped following up with customers, hosts and potential recruits. Perhaps you used to use the telephone to talk and now you pretty much only use it to text. Perhaps you got a little complacent and started using social media as your primary platform to run your business, instead of an add-on to personal contact.
You already know what you need to do. As Mel Robbins says, count backwards, 5-4-3-2-1 – then just do it. It's Go Time!
3. You have taken action, but now you're stuck and don't know what to do now.
This is usually a good time to reach out to your sponsor if you haven't already done so. It's often a quick fix. When I talk with team members in this position I ask them a series of questions related to what specifically they have been doing.
What are they specifically saying to potentials? What specifically are the objections? How specifically are they asking? Person to person? Phone? Text? Facebook post? How much time per day are they spending on their business each day? It's important to know where you've been to get the best plan of action where to go next.
Two things need to happen if you're not hitting your goal because of any of the above three:
1. Be proactive and reach out to your sponsor or director. And 2. Be specific about what you have done that hasn't been working. A blanket decree of, "Help, I've asked everyone and no one wants to buy anything" isn't helpful to finding out what is necessary to meet your goals.