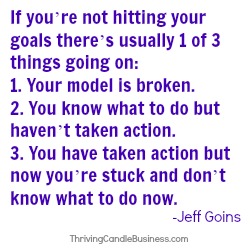 I participated in a Jeff Goins webinar this week about building your audience. One of the things he said that stuck with me is:
If you're not hitting your goals, there's usually 1 of 3 things going on:
Your model is broken.
You know what to do but haven't taken action.
You have taken action but now you're stuck and don't know what to do now.
If you fall into the above, then you need a guide to help mentor you through.
I keep thinking about how this relates to direct sales independent consultants who haven't been hitting their goals. There are usually one of three things going on:
1. Your model is broken.