My New Favorite Scentsy Wickless Electric Candle Warmer: LITTLE GARDEN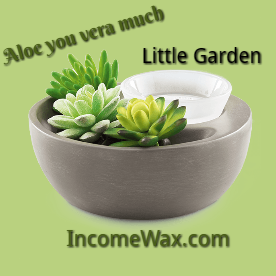 I have been, not very patiently, awaiting the arrival of this new scented candle warmer, Little Garden, and it's now available to order. It's an element warmer, meaning no light bulb to warm the wax, but instead it has a heating element.
The black decorative stones and faux succulents are included with this warmer and are removable, should you want to decorate with your own creativity.
The Official Scentsy Description of this Candle Warmer:
A meditative merging of cool grays and clean contours elevates this DIY warmer to artistic heights. Little Garden also includes three faux succulents and one bag of black stones, and can even be used with one of our Decorative Scenes. Or you can get creative and make your own exhibit using figurines, faux flora, rocks and more!
Pick Your Scents
We have over 80 scented candle bars to choose from, including some delicious new fall and winter scents too. For the best savings, use this special bundle and save link to get a 6-pack of wax, mix and match scents.
Please Like, Share or Post a Comment!