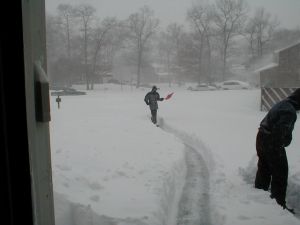 When something is said to be seasonal we generally think of it as pertaining to one of the four natural divisions of the year, spring, summer, fall, and winter. When I ask if your direct sales business is seasonal, I'm sure a handful of consultants would agree that they have a fall business – meaning October and November are extremely busy for them due to the rich gift giving season. But then not much going on during the other three seasons.
In order to have a successful, thriving direct sales business you really need to have a business that operates in all four seasons: spring, summer, fall AND winter; not spring, summer, fall OR winter.   To illustrate this concept, consider what regular tasks need to be accomplished during each season.
Spring: A time of new growth, and also lots of weeds and possibly spring cleaning of remaining fall leaves. If you don't keep up with this task regularly the weeds will choke out all non-weed plants and if you don't pick up the remaining leaves it could kill new grass that is trying to grow. You can't just work it periodically.
Summer: Weeding and mowing the lawn are regular occurrences. If you have a swimming pool, you'll need to test the water, add chemicals and skim regularly. You can't just work it periodically.
Fall: Get out the rakes and leaf blowers because you're going to be busy this season. Most home owners would prefer get the leaves off the ground before the snow falls. You can't just work it periodically.
Winter:   Speaking of snow fall, shoveling, plowing and snow blowing is a task that you must keep up with. In some states the white stuff just keeps coming down therefore ignoring the driveway is not an option, unless you want to be trapped inside for months. You can't just work it periodically.
I hope your direct selling business is seasonal – specifically four seasons. It is a business that requires constant activity to grow and maintain sales and recruits.   If you only work it when it is busy then you will end up with weeds, mucky pools, leaves killing grass and six foot high snow drifts – none of which are favorable circumstances.  None of which are conducive to achieving your goals.
As we approach summer, which can traditionally be a slow season for direct sales, don't take a vacation from your business. Rather perform your business activities regularly and you'll be well pleased with the results. You can't just work it periodically.
About the Author: Laurie Ayers is a WAHM from Michigan and a Superstar Director with Scentsy Wickless Candles. She enjoys helping others start and maintain a candle business in the US, Canada, Puerto Rico, Deutschland and the UK. You can find Laurie at https://la.Scentsy.us or https://www.ThrivingCandleBusiness.com