Before I answer how much a Scentsy bar costs, it's important to understand what a Scentsy bar is and how long you can anticipate the scent will last.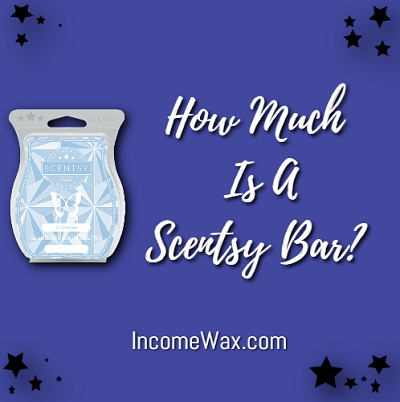 What Is a Scentsy Bar?
A Scentsy Candle Bar is a clam shell container of scented candle wax with eight (8) break apart sections or cubes. They are used in Scentsy electric wickless candle warmers. Depending on the size of the warmer and personal preference, most people use 1-4 cubes at a time.
How Long Does a Scentsy Bar Last?
How long the scent in a Scentsy bar lasts depends on personal preference. Everyone's sense of smell is different, and there are so many variables that determine how often you would swap out your wax. Read How Long Does Scentsy Last to see all the variables and why it would not be accurate for me to give you a quantitative range.
How Much Is a Scentsy Bar?
Our Buy 5, Get one Free mix and match Bundle and Save (6 Pack) is $30.00 (Save $6).  You can also get a Three Pack Scentsy Bar Bundle (mix and match scents) for $17 (Save $1), and a single Scentsy Bar of eight cubes is $6.00 USD.
During January and July of each year you can get most Scentsy for 10% at www.IncomeWax.com off while we make room for our new upcoming seasons.