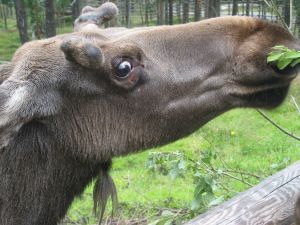 As business owners, we can all take a lesson from this company.   If their philosophy and personality are shining through on a website – so much so that it makes customers want to throw money at them, then refer others, plus create quite a viral buzz, they must be doing something right.

I recently stumbled upon a company that is oozing with personality. I chose to do business with them because they had the item I was looking for at a reasonable price; but more so because of their fun personality. They made me want to give them my hard earned dollars. The fact that they are a fellow Michigan business was just an unexpected bonus.
For starters, I checked their return policy because I was purchasing a gift. Theirs is one of the best return policies I've ever seen:
OUR GUARANTEE
If you aren't thrilled with your purchase, return it AT ANY TIME as long as IT'S IN SELLABLE CONDITION and as long as you aren't dead. If you are dead, your heirs can still return the goods but they should probably keep them in your honor. We are fully available to answer all your questions and advise you. We were voted "Best Virtual Boot, Clothing, Gear fitters" by made up customer #323. Load bearing climbing equipment like a harness or carabiner, and all Gift Cards, are final sale and cannot be returned. So, if you don't like your climbing stuff just hang it on your wall to impress your friends and if you don't want your Gift Card, use it as a ruler.
Oh yeah, proof of purchase required for all returns. IF YOU RETURN THE PRODUCT(S) IN UNSELLABLE CONDITION we will ship the product back to you and will NOT PROVIDE YOU WITH A REFUND. Sorry for being so mean about it.
After I placed the order, I received this ditty:
Your Order Has Been Placed
Way to go. You've won the best email receipt we've sent out all day. We recommend either printing this receipt and framing it in your foyer or using it as a screensaver. It would probably also be nice for you to forward it around to a couple friends and maybe even an enemy or two.
If you're bored, check us out on Facebook or Twitter. Our CFO said he doesn't understand why anyone would use Twitter. He also thinks that a narwhal is a made-up animal. Please don't tell anyone about it.
If you care more about your order than our nonsense you can track your package right to your doorstep. As soon as we have your tracking information we'll email you the tracking information. You can also check your order status online. Don't be scared if you don't see your order right away. We just have to process it first. Check out your Order Status and Order History.
No chance you're still reading this but if you are, we're posting pictures of folks using the products on product pages at Moosejaw.com. If you fall in the folks category please email a photo of your gear in action to Moosejaw and we'll add your picture to Moosejaw.com and add 100 Reward points to your account. If you have a Moosejaw logo in your picture we'll double the points. Not sure what MOOSEJAW Reward points are? Check it out. Oh, we only give points on one photo per product and you need to have bought the product from us. A customer tried getting a million points when he sent us his wedding album so we had to write this.
Then today I received the notice that my order has shipped.
Thanks again for placing such a fantastic order at Moosejaw.com!
"Your Order Tracking and Order Summary Information is above in red. We recommend printing this information and mounting it into a mahogany frame for a foyer or living room. If you don't have a printer they're very easy to take from a friend and bring back later, just something to keep in mind.
If you have any questions about your order please email us, hop on Live Chat, or give us a call at xxx. Now I'll stop bothering you.
Love the madness,
Moosejaw"
Do you see what I'm talking about? Can you see the personality of this business? What about the business concepts… did you catch everything they did right?
1. Their web content is stupendous.
2. Their return guarantee is clearly spelled out; and isn't boring mumbo jumbo.
3. They complimented me on my purchase and gave me a call to action to visit their social media sites and provided info on the order tracking and encouraged me to earn more reward points, thereby increasing the odds I'd be a return customer. Yes, I know that was a run-on sentence but they did a lot in number three.
4. They kept me informed when my order shipped. They again complimented me (one can never have enough compliments). They gave me the tracking information and make their contact information easily available should I have any questions.
Time will tell, but I have the sneaking suspicion I will hear from them again to see how I liked my order and to keep me apprised of more fabulous reasons I didn't know I had to be a return customer.
What about you? Does your business have personality? Do you have a USP (Unique Selling Proposition)? What sets you apart from your counterparts? Do you have an overwhelming reason I should do business with you and not just any ol' website that offers the same product?
If you're just blending in with the rest of your competition it's time to step out and dare to be different!