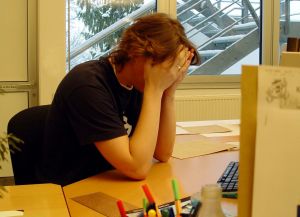 Frustrated with your direct sales business or parent company? Then this post is for you.
You've probably heard all the cliches about the grass being greener on the other side and watering your own grass. There's a popular quote, "Don't let a bad day make you feel like you have a bad life." This can also be reworded to "Don't let a bad day make you feel like you have a bad business (or that you're with the wrong direct sales company)."
The honest truth is that no one person, business or company is perfect. There's no perfect spouse, no perfect house and certainly no perfect direct sales company.   It is also true that if you do due diligence you can find a pretty awesome spouse, house and direct sales company.
If you leave at the first sign of trouble then you weren't really committed from the start. If you've had more than a few hiccups and you leave, then you may have unrealistic expectations. Note:  I am not referring to glaring and repeated failures or moral discord that you simply may not be able to ignore.
I'm specifically talking about some of the things you don't like about your company. You can get frustrated and fed up and declare, "That's it; I quit!" And you certainly can do that. But then you'll just have to start over somewhere else.   And if you don't see any warts in the beginning, you'll eventually see them. Then how long will it be before you make the same declaration again and decide that you've had enough and quit?
There is no perfect person, business or company and if you keep looking for it you'll never find it.
Instead of looking for areas to agitate you, look for all the goodness. Make your pros and cons list and if you're honest and can see past your own present frustrations, odds are there are far more good than bad aspects.
Instead of looking for excuses why you're not doing well, look for opportunities for improvement.
Instead of looking for reasons to be mad, look for reasons to be happy.
Change your focus. It'll change your attitude, which will in turn change your results.
"To conquer frustration, one must remain intensely focused on the outcome, not the obstacles."  -T.F. Hodge
What do you think? Time to recommit to your success?
See you at the top!
About the Author: Laurie Ayers is a Michigan work from home mom and a Superstar Director with Scentsy Wickless Candles. She enjoys helping men and women start and maintain a home based business in the US, Canada, Poland, Australia, Puerto Rico, Germany, Ireland and the UK. To download a FREE Start Up Guide which provides more details about how to start a home business as well as to learn about our compensation plan go to  www.thrivingcandlebusiness.com/how-to-start-a-candle-business/  or for updates on Facebook LIKE  www.facebook.com/ThrivingCandleBusiness and Twitter @directsalesblog