Sometimes traveling just stinks. Literally.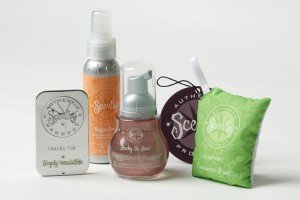 We've all encountered a peculiar odor during a trip, whether it's been on an airplane, in a rental car, or even in a hotel room (I know I've been forced into booking a smoking room in an otherwise full hotel). An up-and-coming company called Scentsy is angling to fix that very problem.
Known for its wickless candles and warmers, Scentsy has come up with a collection of fragrance products designed with traveling in mind. They're fun, portable, and""best of all""TSA-friendly. Here are the most travel-worthy of the lot:
Fragrance Foam: One of the newest additions is the 2.7-ounce Fragrance Foam. An alcohol-free, scented hand sanitizer, the Fragrance Foam is packed with emollients so it kills germs without drying out your skin like many other hand sanitizers tend to do. It's available in five scents""none of which actually smell antiseptic-y ($6).
The Scent Pak: Scent Pak pouches are filled with scented beads; you can just stick one in your luggage and let it go to work on its own. A pouch in the Pima Cotton fragrance, for example, can be placed in the suitcase carrying your dirty laundry; the light clean mix of lilies, freesia, and jasmine will leave a fresh-fabric smell""not an overwhelming essence, like you spilled a bottle of perfume inside.
Scentsy Buddy: What's really cool and great for families is that the Scent Paks can also be packaged in a cute and kid-friendly Scentsy Buddy, a plush stuffed animal with a zippered compartment that holds the fragrance pouch. The six animal options include characters like Roarbert the Lion and Ollie the Elephant; kids can visit a special website to register and nickname their new pals and design and download an adoption certificate (Buddy with a Scent Pak $25, individual Scent Pak $7).
Travel Tin: Another super-useful option is the Travel Tin, a flat, pocket-size metal container filled with a gel fragrance; just slide the tin open to release the scent""the more you open it, the more fragrance it emits. The tins fit perfectly in a purse, giving you a conveniently discreet way to clear the air of an unwanted odor ($5 each or six for $25).
Scent Circle: The Scent Circle is essentially the sort of air freshener you'd hang in your car ($3).
Room Spray: This is exactly what it sounds like. At 2.7 ounces ($8), it also complies with TSA regulations.
The company offers a variety of fun, travel-inspired scents like Ocean (aquatic notes deepened with water lilies and ocean breezes) and Beach (papaya and honeydew with a hint of coconut). And the choices aren't all girly: A collection of "manly" fragrances includes Hemingway (rich apples accented with sandalwood, cedar, and hints of spice) and what the company calls its "bad boy" scent, Peligro, with ebony wood, blue cypress, musk, and white pepper.
Scentsy is a direct-selling company, meaning you can only buy its products through independent consultants (Tupperware-party-style). That doesn't mean you have to actually know a consultant or go to a party, though; just click on "Find a Consultant" on the Scentsy website and enter your address, and it will find consultants close to you and connect you to their websites. You can also search for a consultant by name. (LA note: or skip all that and just visit https://la.scentsy.us)
Article by Danielle Lipp originally published here.