Sometimes traveling just stinks. Literally.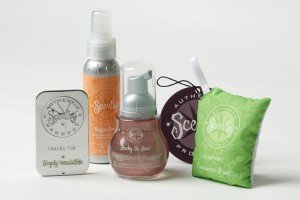 We've all encountered a peculiar odor during a trip, whether it's been on an airplane, in a rental car, or even in a hotel room (I know I've been forced into booking a smoking room in an otherwise full hotel). An up-and-coming company called Scentsy is angling to fix that very problem.
Known for its wickless candles and warmers, Scentsy has come up with a collection of fragrance products designed with traveling in mind. They're fun, portable, and""best of all""TSA-friendly. Here are the most travel-worthy of the lot:
Fragrance Foam: One of the newest additions is the 2.7-ounce Fragrance Foam. An alcohol-free, scented hand sanitizer, the Fragrance Foam is packed with emollients so it kills germs without drying out your skin like many other hand sanitizers tend to do. It's available in five scents""none of which actually smell antiseptic-y ($6).
The Scent Pak: Scent Pak pouches are filled with scented beads; you can just stick one in your luggage and let it go to work on its own. A pouch in the Pima Cotton fragrance, for example, can be placed in the suitcase carrying your dirty laundry; the light clean mix of lilies, freesia, and jasmine will leave a fresh-fabric smell""not an overwhelming essence, like you spilled a bottle of perfume inside. [Read more…] about Breeze Through Security With TSA-Friendly Fragrance Products