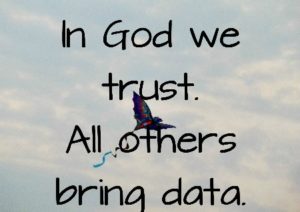 When I worked for the Federal Government we had a saying, "In God we trust. All others bring data."  Other parts of the conversations included "Bring me the source document." "Where does it say that?" "What does the policy say?"
The same verification standards should also apply to any business, including all Scentsy Independent Consultants.
Show Me.
Your sponsor and upline are there to support, encourage, mentor, coach, point in the right direction and sometimes just to listen. Your upline is not to serve as a substitute for written documentation which you have at your fingertips.
You signed a written, likely electronic, agreement and you likely have a copy of your policies and procedures and compensation available to you. You probably also have a Training Center of some sort, and a Resource library. Use them. See what it says in writing.
When you're starting out you're not expected to know all the policies and compensation and other procedural information. It's not even realistic that when starting out you'll even know where to look for some of the information. That's where your upline comes in.
Ask Where.
Instead of asking "Can I do this?" or worse yet, finding out from compliance that "you can't do [this]" ask your sponsor "WHERE can I find information about xyz?"  If your sponsor doesn't know where to find it, find out together or keep climbing until you reach an upline member who does know.
Frequently I learn of direct sales consultants who have inaccurate information because "So and So told me."  Don't rely on So and So to tell you. Ask So and So where you can find it in writing.
You can CYA if it's in a corporate document in writing but more importantly, if you spend a few moments looking it up, and seeing the information with your own two or four eyes, you are more likely to remember it and you will be assured to have the correct information.
See you at the top!
Please Like, Share or Post a Comment!
About the Author: Laurie Ayers is a Michigan work from home mom and a Superstar Director with Scentsy Wickless Candles. She enjoys helping men and women start and maintain a home based business in the US, Canada, Mexico, Australia, New Zealand, Puerto Rico, Germany, Ireland, UK, France, Austria and Spain. To download a FREE Start Up Guide which provides more details about how to start a home business as well as to learn about our compensation plan go to www.thrivingcandlebusiness.com/how-to-start-a-candle-business/ 
Be sure to connect with me on Facebook, Twitter, and Pinterest