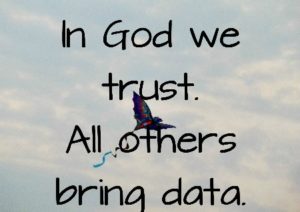 When I worked for the Federal Government we had a saying, "In God we trust. All others bring data."  Other parts of the conversations included "Bring me the source document." "Where does it say that?" "What does the policy say?"
The same verification standards should also apply to any business, including all Scentsy Independent Consultants.
Show Me.
Your sponsor and upline are there to support, encourage, mentor, coach, point in the right direction and sometimes just to listen. Your upline is not to serve as a substitute for written documentation which you have at your fingertips.
You signed a written, likely electronic, agreement and you likely have a copy of your policies and procedures and compensation available to you. You probably also have a Training Center of some sort, and a Resource library. Use them. See what it says in writing.
When you're starting out you're not expected to know all the policies and compensation and other procedural information. It's not even realistic that when starting out you'll even know where to look for some of the information. That's where your upline comes in. [Read more…] about Trust is Good but Information Must Be Accurate