My Kid Smells Better Than Your Kid
For the best smelling student and dorm, send your loved ones to college with Scentsy Laundry!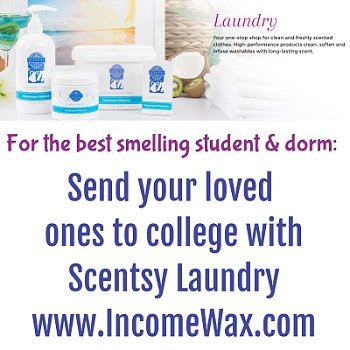 You already love Scentsy's fabulous scented candles, now your college student can have the same delightful scent while staying at their home away from home for the next four years because they can wash their clothes in Scentsy!
Did You Know Scentsy Has Laundry Care?
We sure do: Laundry Liquid, Washer Whiffs, Dryer Disks, and Scent Soft
Send a Care Package to School
Concerned junior may not wash those sheets very often?  Send a care package to school. The Laundry Love Bundle makes an excellent, easy to order surprise.
If You Prefer Autoship –
If FREE shipping and autoship at your selected intervals appeals to you, then check out our new Scentsy Club. 
Keep on a-washin'!